September 29, 2023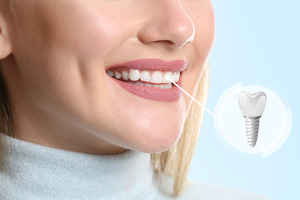 Dental implants, a revolution in modern dentistry, offer a durable and natural-looking replacement for missing teeth. However, the longevity and health of these implants greatly depend on the lifestyle choices and care routines we adopt. In this post, we'll explore various changes you can incorporate to ensure your dental implants last a lifetime.
Oral Hygiene Practices
It all starts with impeccable oral hygiene. Firstly, adopt a soft-bristle toothbrush. Brushing vigorously or with hard bristles can harm the implant. Ensuring you brush twice daily is paramount to keep bacterial buildup at bay. Next, flossing should be non-negotiable. Opt for gentle or implant-specific floss to care for the gums surrounding the implant and to prevent potential gum diseases. Lastly, an alcohol-free mouthwash can be your secret weapon against harmful bacteria, providing the dual benefit of cleansing without causing dryness.
Dietary Adjustments
What we consume has a direct impact on our oral health. To protect your implants, it's wise to sidestep hard and sticky foods. While that caramel might be tempting, it can pose a risk to your dental investment. Drinking adequate water is not just good for your body but also maintains an optimum oral environment, keeping dry mouth and its associated risks at bay. Additionally, limiting the intake of sugary and acidic foods is more than just a general dental tip; it's especially crucial for those with implants. These foods and drinks can erode natural teeth and inflame the gums around your implant.
Regular Dental Checkups
Never underestimate the power of routine dental visits. These checkups are your safety net, ensuring everything remains in tip-top shape. Professional cleanings, in particular, are a boon, effectively removing plaque and tartar that might accumulate around the implant.
Lifestyle Habits to Avoid
Smoking, while harmful overall, is especially detrimental to dental implant longevity. It restricts blood flow, potentially delaying healing post-surgery and increasing the risk of implant failure. Similarly, excessive alcohol intake can cause a dry mouth, affecting the implant's surrounding gums. And a small but vital tip? Never use your teeth as tools. It's a fast track to unnecessary pressure and potential damage.
Consider Protective Gear
If you're prone to grinding or clenching your teeth, a night guard can be your implant's best friend. And for the sports enthusiasts, a mouthguard is essential to prevent any sudden trauma to your dental implant.
In conclusion, with a mix of lifestyle adjustments and diligent care, your dental implants can truly last a lifetime. Always remember, when in doubt, your dentist is just a call away. Embrace these changes and enjoy the confidence your dental implants bring.
About the Author
Dr. Christopher Nowacki earned his Doctor of Dental Medicine in 2004 and has since been committed to delivering compassionate and comprehensive dental care. He takes pride in personally connecting with each patient, aiming to maintain their optimal oral health using innovative techniques and technologies. Dr. Nowacki stays abreast of advancements in dentistry through memberships in prominent organizations such as the American Dental Association, the Florida Dental Association, and the Academy of General Dentistry. He leads a dedicated team at his dental office, providing personalized, high-quality care in a relaxed environment, ensuring patients always leave with a smile.
If you have any questions about dental implants, we can be reached at our website or by phone at (321) 724-9300.
Comments Off

on 4 Lifestyle Changes to Support Dental Implants
No Comments
No comments yet.
RSS feed for comments on this post.
Sorry, the comment form is closed at this time.