Emergency Dentistry – Palm Bay, FL
Relieve Pain & Put the Smile Back on Your Face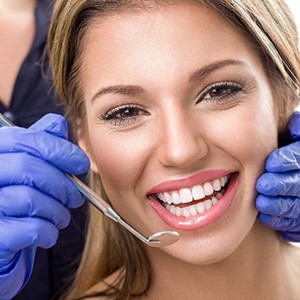 You can't always plan for or avoid an emergency of any kind, but for patients of Beautiful You Dental in Palm Bay, you can at least plan your response to dentistry emergencies. In most cases, our team can provide emergency dentistry appointments for patients in need of urgent care on the same day they contact us.
If for any reason we can't see you right away, Dr. Christopher Nowacki or one of his knowledgeable team members will walk you through caring for your smile at home to minimize discomfort and avoid additional damage until you visit us for emergency dentistry in Palm Bay, FL.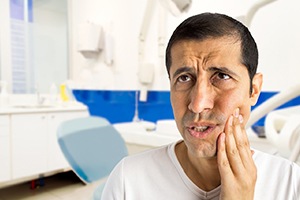 What is a Dental Emergency?
Many patients tell us they didn't call our dental office right away during emergencies because they didn't think their situation "counted" as an emergency. We're here to tell you if you're in pain or your smile is damaged, you're probably experiencing an emergency. It's always better to call right away for treatment regardless. The sooner we begin treatment, the less likely patients are to experience additional oral health issues.
Anytime that you experience excruciating dental pain, bleeding, swelling, or damaged/lost teeth, you have a dental emergency on your hands. There are some cases where a dental accident isn't as urgent as other ones.
Here are the urgent dental emergencies that you need to see a dentist for right away:
Excessive bleeding that won't stop, even after applying pressure to the area.
An accidental lost or knocked out tooth.
A broken dental restoration that helps to stabilize your tooth.
A persistent toothache that causes excruciating dental pain.
If you happen to have a less painful dental accident, one that doesn't cause you to cringe in pain, you can schedule an appointment rather than rushing by the dental office.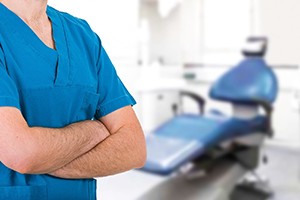 Do I Go to the Emergency Room for a Dental Emergency?
Many patients may assume that they need to visit their nearest emergency room if they experience any type of injury—even if it happens to their mouth. The truth is that in most cases, emergency rooms are full of patients with a variety of injuries. You'll most likely be stuck in a waiting room for hours on end, waiting for a nurse or doctor to find the time to treat you.
IN the case that they can actually see you, they could end up referring you to a dentist to address your dental issue. Most emergency rooms don't have a dentist on-hand at all times, and doctors don't necessarily specialize in addressing and repairing dental concerns.
You can avoid that whole scenario by calling your dentist here at Beautiful You Dental from the start. Not only will we be able to help you address your emergency with advice while you make your way to our dental office, but we can work on repairing your smile right from the beginning.
Feel free to add our phone number to your cell phone contacts just in case! We're just a phone call away.
Keys to Preventing Dental Emergencies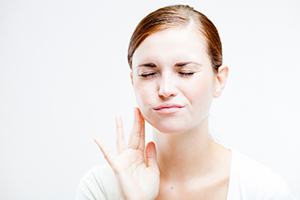 Dental emergencies can usually happen when you least expect them. While they aren't always completely avoidable, you can practice certain steps that can lessen your risks of experiencing one. To help you prevent dental emergencies in Palm Bay from starting in the first place, our team at Beautiful You Dental can share several essential tips. By following the five methods below, you can ensure your pearly whites stay safe and healthy for many years to come!
Visit Your Dentist Routinely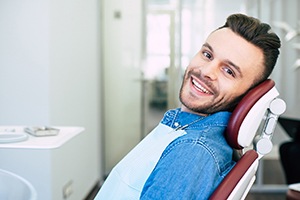 One of the best ways to maintain your oral health and avoid more serious complications is to schedule routine checkups with your dentist. By visiting them every six months or sooner, they can monitor your teeth, gums, and soft tissue to confirm there aren't any underlying or developing issues. If they detect any signs of concern, they'll be able to provide the necessary treatment to stop the problem from becoming worse over time. For example, a small cavity that isn't visible to you can potentially lead to an emergency trip later on. With early preventive care, you can avoid it altogether.
Maintain Good Oral Hygiene At Home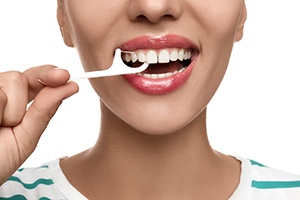 In between your dental appointments, you'll need to practice proper oral hygiene at home. Brushing twice a day, flossing daily, and rinsing with mouthwash often can go a long way in preventing urgent situations with your smile. It's especially important to clean around your gum line and between your pearly whites, as bacteria and plaque buildup can increase your risk of other serious health issues, like gum disease and infections.
Stick to a Nutritious Diet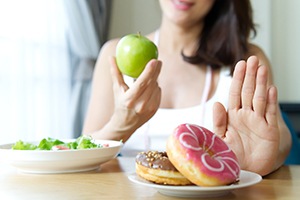 Most of us are aware of how sugary treats are detrimental to our oral health. By overindulging in snacks like candy and energy drinks, you provide fuel for destructive bacteria that can gradually wear down your teeth and cause inflammation in your gums. However, consuming products that are high in carbohydrates and starches can be just as harmful to your smile as sugary food. To help avoid dangerous bacteria from feeding on your enamel, be sure to incorporate healthier meal options like lean proteins, whole grains, and fresh fruits and vegetables. This way your teeth, gums, and bone tissue stay stronger in the long run.
Wear a Mouthguard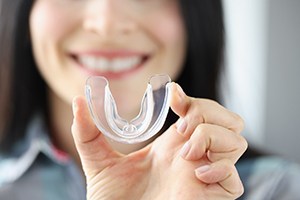 Do you tend to grind or clench your teeth while sleeping? While this isn't on you, you must avoid wearing down your enamel, which can make your smile more vulnerable to bacteria. To protect your teeth, feel free to ask our team about nightguards for bruxism. With these custom-designed trays, you'll be able to rest easy as well as protect your smile. Likewise, if you enjoy playing contact sports and want to avoid getting a breaking or knocking out a tooth, reach out to us about athletic mouthguards. We'll be able to recommend the best products to address your specific dental needs!
Use Tools, Not Your Teeth, to Open Packages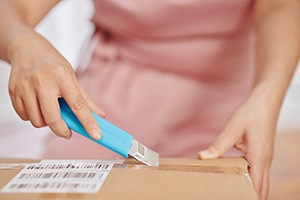 It can sometimes be tempting to just rip open a box, envelope, or even a bottle cap with your teeth for convenience's sake. However, one wrong bite or twisting movement can easily cost you a trip to your emergency dentist, which may require you to reach deep into your wallet for restorative treatment. To save you time, money, and precious teeth, make sure you have the appropriate tools nearby.
Frequently Asked Questions
Got questions about dental emergencies? We've got answers. Keep reading for our handy dental emergency FAQ!
What is a dental emergency?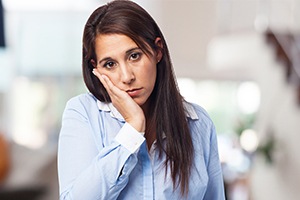 To put it briefly, a dental emergency is anything that is bleeding, has broken, or is causing you pain in your mouth. It is something that requires prompt if not immediate treatment from a professional -- in most cases, that means a dentist.
What are the most common dental emergencies?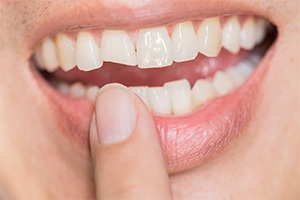 While it would be difficult to provide an exhaustive list of all the things that could be counted as a dental emergency, we can share some of the most common situations we treat as emergencies. They include:
A knocked out tooth
A dislodged tooth
A toothache or abscessed tooth
Laceration to the soft tissue
Something lodged between teeth
Broken filling, crown, or other dental restoration
Should I go to an emergency room for a dental emergency?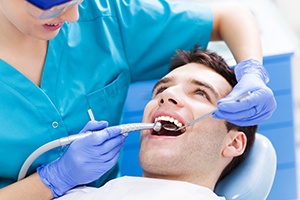 In the majority of cases, a dentist is better equipped to handle a dental emergency than the emergency room. Visiting the ER when it is not completely necessary can lead to expensive bills and delayed treatment times. However, if you have broken a bone in your mouth or are bleeding uncontrollably for 10 minutes or more, you should head straight to the emergency room.
What do I do for a knocked-out tooth?
Call our dental office ASAP if you or a loved one have had a tooth knocked out. Getting prompt care is the key to successful reattachment. In fact, teeth that are not treated within 2 hours usually cannot be reattached. Immediately after the injury occurs, rinse the knocked-out tooth under water, being careful not to touch the root or damage its sensitive cells. Store the tooth in a cup of milk or water until you can make it to the dental office.
Can a toothache get better on its own?
Usually not. A good rule of thumb is this: healthy teeth do not hurt. If you are experiencing a toothache, get in touch with our dental office right away. An infection in a tooth can quickly worsen and spread throughout your body, putting your overall health at risk.
Why is my child's tooth aching?
A child may complain of discomfort in the mouth when something is stuck between the teeth. If your little one has a toothache, first help them brush, floss, and rinse their mouths. If pain persists, get in touch with the dentist right away.
How can I prevent dental emergencies?
Dental emergencies are not completely preventable, but there are steps you can take to keep one from happening to you or a loved one. The most common cause of oral injuries is contact sports, so wear a protective mouthguard while on the field, court, or rink. Additionally, visiting your dentist every six months for a checkup and cleaning will help to prevent small cavities from becoming big toothaches. Partnering with our team will go far in helping you to prevent emergencies!