Fix Severe Snoring With Our Sleep Apnea Therapy!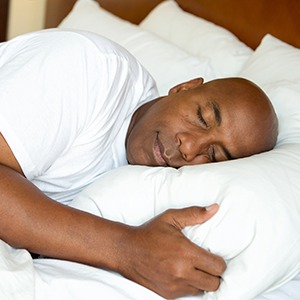 Do you feel constantly tired despite getting a full night of rest? Does your snoring frequently disrupt your spouse or roommate's sleep? You may be affected by sleep apnea, a disorder that is growing more and more common throughout the country. If you believe that you might have sleep apnea, please contact us today. Our team at Beautiful You Dental has extensive experience with helping patients overcome the symptoms of sleep apnea and finally achieve a good, relaxing night of sleep. Dentistry is more than just teeth! See us for sleep apnea therapy.
Sleep apnea is a condition in which the muscles that keep the airway open collapse, and momentarily, the airway is blocked preventing oxygen from reaching your brain during the deepest stages of sleep. The body responds by snoring loudly to force the muscles back into their proper spot. Unfortunately, this action prevents the body from achieving the most rejuvenating levels of sleep. Signs of sleep apnea include frequent fatigue, migraines, and irritability. People who have sleep apnea may find it nearly impossible to sleep throughout the night, and this can result in reduced alertness during the day. Sleep apnea therapy can help treat this condition!
We can fit you for a TAP 3 device, which you'll wear at night to keep your airway open. It's custom-made for each patient in order to achieve a comfortable fit. The mouthpiece works by preventing the soft tissues in the mouth and throat from collapsing. At first, it may seem strange to wear this appliance at night, but 95% of TAP 3 sleep apnea therapy patients reported a restful sleep after using it only once! Speak with us today to get the rest you deserve.
Please call us today to schedule your sleep apnea therapy appointment. We see patients from Palm Bay, Vero Beach, Sebastian, Melbourne, and nearby Florida neighborhoods. If this will be your initial trip to our practice, please take a moment to review the information on the new patient page.