Traditional Braces – Palm Bay, FL
Invest in a Healthy, Straight Smile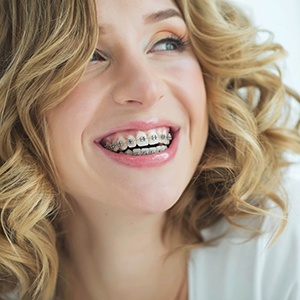 The positioning of your teeth is important for more than just a beautiful, confident smile. Their alignment also affects your oral health and functions. Thankfully, you can achieve the healthy, attractive smile you deserve with braces in Palm Bay. Although they are often thought to only be for children, you're never too old to invest in a straight smile.
Why Choose Us for Traditional Braces?
Customized treatment plans for patients of all ages.
Qualified and experienced dental team.
State-of-the-art technologies.
How Do Traditional Braces Work?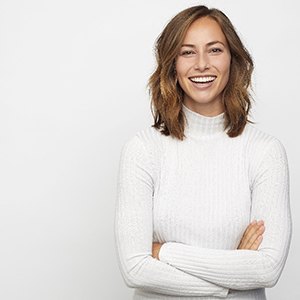 Traditional metal braces are the most effective solution to treat even the most complex bite and alignment cases. With decades of proven success, you can rest assured you'll achieve the results you want. Your orthodontist in Palm Bay attaches brackets to your teeth to hold an archwire. They'll adjust the wire in small increments to gradually move your teeth into position.
What Smile Problems Can Be Treated with Traditional Braces?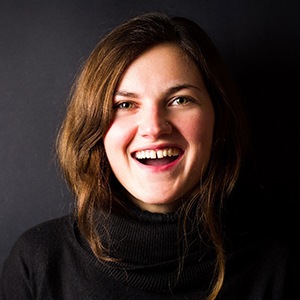 Braces can be used to treat a variety of issues for children, teens, and adults. You'll still require a thorough consultation to evaluate your orthodontic concerns; however, most patients are a candidate if they need to correct:
Crowded Teeth
Crowded teeth are difficult to keep clean, increasing your risk of tooth decay and gum disease. Moving them into their ideal positions improves your oral health to lower your long-term dental expenses.
Spaces Between Teeth
Large gaps between your teeth make it easy for food particles to get trapped, which can lead to cavities and infection. You'll even have an increased risk of bad breath and other complications. Braces will close the spaces to enhance the overall health of your smile.
Incorrect Bite Alignment
The positioning of your teeth can also cause an improper bite, which can make it difficult to perform simple tasks, like biting and chewing. You can develop worn enamel, an increased likeliness of dental emergencies, and other issues. Braces will ensure harmony between the upper and lower arch for a functional smile.
Benefits of Traditional Braces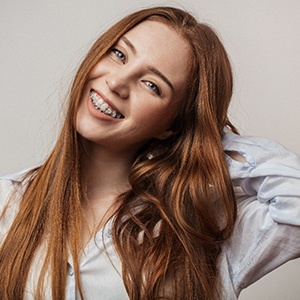 You have more options than ever to correct your bite and alignment issues; however, metal braces continue to be a preferred solution because of the various advantages they offer, such as:
Proven success for even complex cases.
Durable solution.
Easy maintenance and care.
Long-term results.
Covered under most dental plans.
Personalized results.
Understanding the Cost of Traditional Braces
There isn't a set fee for braces because the cost is determined by your specific plan. We'll provide you with an estimate during your initial consultation and discuss the fees associated with your treatment. Although every policy differs, most dental insurances offer some coverage for braces to help offset the amount you need to pay out-of-pocket. Our office accepts many payment methods for any remaining balance, like third-party financing. We'll help you find the solutions you need to invest in a straight smile without draining your wallet.
Schedule Your Consultation
If you're ready for a confident, healthy smile, contact our office today to schedule your consultation for braces.
Traditional Braces FAQs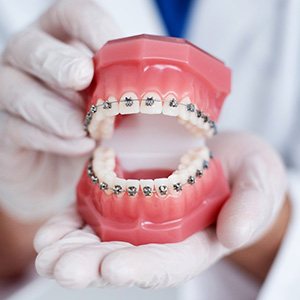 Most people have met someone with braces, or at least someone who has had them in the past. While this means patients who come to us are often familiar with what traditional braces are and what they can do, all this word of mouth may actually leave some people with more questions than answers.
If you have concerns that you'd like to have addressed, we'd be happy to talk you through them. Here are answers to a few of the questions we get most often about braces.
Can I Get Traditional Braces on Just My Top or Bottom Teeth?
While it may sound tempting to put traditional braces on just your top or your bottom teeth, this is typically a bad idea. This is because straightening the teeth doesn't just move the teeth into alignment—it also causes them to move forward or back, depending on whether your teeth were gapped or crooked.
Aligning the teeth on one arch but not on the other can cause the teeth to move apart, creating an over or underbite. While in some situations the projected bite misalignment will be minor enough to disregard, we would still usually recommend against traditional braces on just one arch.
Am I Too Old to Get Braces?
You're never too old to get braces! It's true that adults' teeth are more deeply engrained in the jaw, which means that the treatment may take longer for them to complete. However, no one is so old that orthodontics is altogether impossible.
The bigger concern is the health of your smile. If your teeth are in poor condition, e.g. you're suffering from tooth decay or gum disease, this could increase your risks of complications during orthodontic treatment. For that reason, we'll need to deal with those problems before placing your braces.
Do Traditional Braces Hurt?
When you first get your braces, you're likely to experience a little bit of discomfort. Your teeth won't be used to moving, and the soft tissue in your mouth will be sensitive to poking wires or brackets.
After a week or so of wearing your braces, this discomfort should fade. Until then, you may want to rely on over-the-counter pain medicine and avoid hard/chewy foods.
You should also keep orthodontic wax on hand. This can be balled up and used to cover any poking bits of metal in your mouth, which can make the adaptation period much more comfortable.
Can You Whiten Your Teeth While Wearing Braces?
For the most part, it's not going to be possible for a whitening gel to reach the area under the bracket where it meets your tooth. As a result, attempts to whiten your teeth while wearing braces will not be completely effective. Instead, you're likely to be left with dark spots on your teeth that will become apparent once you take off your braces.
That said, whitening toothpaste and mouthwashes will produce more subtle, gradual whitening. These are a great way to go if you want a brighter smile while wearing braces.