Dentures – Palm Bay, FL
Recreate Lost Teeth for Flawless Smiles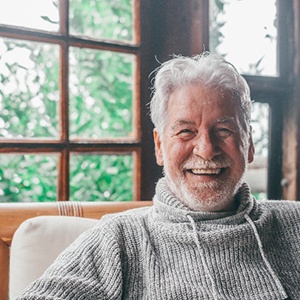 Do you need to replace one or more missing teeth? Fortunately, our talented dentist, Dr. Christopher Nowacki, has the solutions you need: dentures. He routinely fits patients with prosthetic teeth using the most advanced technologies to promote a natural-looking appearance and comfortable fit. With the right treatment plan, you can restore your confidence and quality of life with dentures and partials in Palm Bay, FL.
Who Is a Good Candidate for Dentures?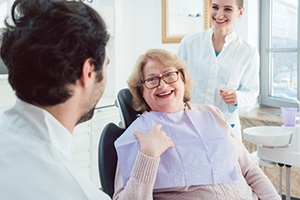 Every tooth in your mouth has an important role in promoting your oral health and functions. When even one is missing, not only do you lose your confidence, but your ability to chew and speak with ease. It is not uncommon to avoid eating many foods because they simply become too difficult to chew. Over time, this can lead to nutritional deficiencies, which can harm your general health.
In addition, your oral health can become compromised. When a tooth is lost, your underlying bone and structures begin to deteriorate. If it is not replaced, it can cause your remaining natural teeth to shift toward the open space because they no longer have the support they need to stay in place. As this occurs, they can become misaligned, making them difficult to clean. This can lead to an increased risk for tooth decay, gum disease, and additional tooth loss.
As you lose teeth, your self-esteem will also suffer from an incomplete smile. However, over time, you may also notice changes to your face as well. You can develop wrinkles and sagging skin as your teeth no longer support your facial structures properly.
If your bite, oral health, or confidence has been negatively impacted by tooth loss, then we encourage you to schedule a consultation. There is a good chance that dentures are the solution you've been looking for!
Types of Dentures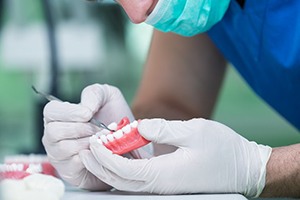 Tooth loss doesn't look the same from patient to patient. To stop the challenges of missing teeth while also addressing each patient's unique smile goals, Dr. Nowacki offers multiple types of dentures, including:
Partial Dentures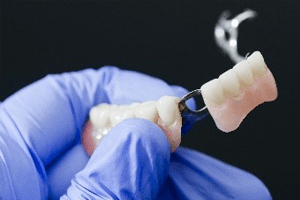 If you are missing several teeth, you can fill the empty space with a partial denture. Using impressions and exact measurements, prosthetic teeth are created that are attached to a gum-colored base. A metal framework is used to allow it to clip onto your remaining natural teeth. This not only completes your smile but provides your remaining teeth with the support they need to stay in place.
You can rest assured that your partial will look very close to your natural teeth as we make them blend in seamlessly with your smile. You will not have to worry about anyone noticing that they are not your own, restoring your confidence.
Full Dentures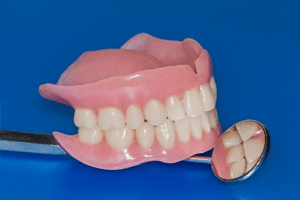 Dentures are commonly used to replace an entire arch of teeth because they are affordable and convenient. While they often have a bad reputation for looking fake, new advancements allow them to look more natural, so you can smile with confidence.
Using impressions of your mouth, a custom-made base is created, which will match your gum color. It will feature prosthetic teeth that look natural to restore your ability to chew and speak. It is then held in place using suction or a denture adhesive. Now, elite technology allows it to stay in place for a comfortable fit to reduce slipping, discomfort, and irritation.
Implant Dentures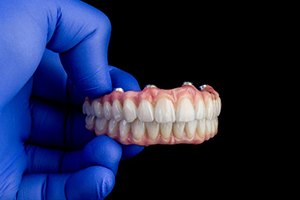 While traditional dentures rely on natural suction or denture adhesive, implant dentures are surgically inserted directly into your jawbone. As a result, they are extremely stable and lifelike. Plus, they can last for more than three decades with proper care (like visiting us semi-annually for a dental checkup and avoiding unhealthy dental habits, like smoking).
The Benefits of Dentures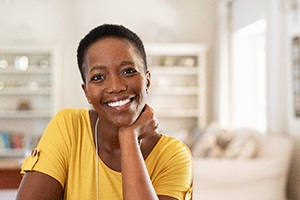 By treating your tooth loss with dentures or partials, you will make a true investment in your quality of life and confidence. You will once again enjoy your favorite foods while speaking clearly. With a complete smile, you will protect your facial structures to prevent an aged appearance due to premature sagging skin and wrinkles.
Understanding the Cost of Dentures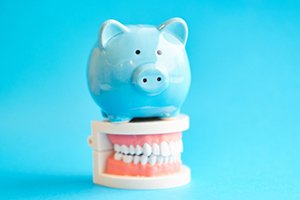 Every smile is unique, which means that every denture must also be unique! Dr. Nowacki always does his utmost to ensure that a patient's denture fits comfortably, looks natural, and, of course, comes at a reasonable price. Because the cost of dentures in Palm Bay can vary greatly from one patient to the next, we'll be sure to review the details of your case and the factors affecting the price of your treatment. We'll also work with you to find ways of affording your replacement teeth without breaking the bank.
Factors That Affect the Cost of Dentures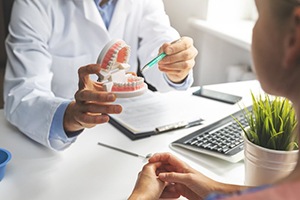 When you decide to purchase a denture, three main factors must be considered:
Preparatory treatments – Some patients require one or more oral procedures before a denture can be placed. For example, severely decayed or damaged teeth must be extracted in order to create a healthy foundation.
Denture base – The base of your denture is dyed pink to blend in with your gum tissue. It's usually made from one of several types of acrylic, each of which has a different cost.
Replacement teeth – The artificial teeth in your denture are typically crafted from either acrylic or porcelain. Again, these materials each come at their own price points.
Before we move forward with the process, your denture dentist in Palm Bay will go over the above factors and how they impact the cost of your new teeth.
Are Implant Dentures More Expensive?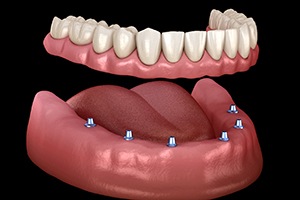 Another variable affecting the cost of your dentures is whether you choose to secure your prosthetic onto dental implants. Yes, implant dentures are more expensive initially than traditional dentures. That's because you have to pay for the implant posts as well as their surgical placement.
However, implant dentures may actually be more cost-effective in the long term. Unlike regular dentures, they won't lose their fit and slip around, as the implants stimulate the jawbone and prevent it from changing shape over time. For this reason, implant dentures can also last several times longer than conventional ones, meaning they eventually pay for themselves. Coupled with the fact that they make eating and speaking easier, implant dentures in Palm Bay are definitely worth the price!
Does Dental Insurance Cover Dentures?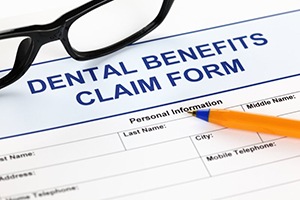 Since dentures are considered a major restorative procedure, most dental insurance providers will cover up to 50% of the cost. That being said, each dental plan has different levels of coverage based on multiple variables, so we can't guarantee anything. We can, however, take a look at the specifics of your plan and handle the paperwork on your behalf. That way, you can be sure that you're receiving all of the benefits you're entitled to.
Other Options for Making Dentures Affordable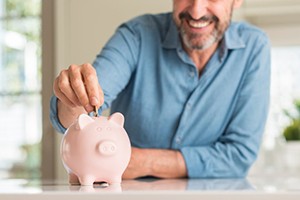 In addition to dental insurance and traditional payment methods, we also accept third-party financing through CareCredit. We've partnered with this company to help our patients access the care they need at affordable rates. Qualified patients can break up their treatment costs into manageable monthly installments, often with low to no interest! Our team would be happy to help you with the CareCredit application process.