Dentures & Partials – Palm Bay, FL
Recreate Lost Teeth for Flawless Smiles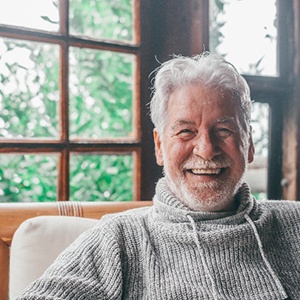 Do you need to replace one or more missing teeth? Your dentist in Palm Bay, Dr. Christopher Nowacki has the solutions you need with dentures or partials. He routinely fits patients with prosthetic teeth using the most advanced technologies to promote a natural-looking appearance and comfortable fit. With the right treatment plan, you can restore your confidence and quality of life with dentures and partials in Palm Bay, FL.
Protect Your Smile
Every tooth in your mouth has an important role in promoting your oral health and functions. When even one is missing, not only do you lose your confidence, but your ability to chew and speak with ease. It is not uncommon to avoid eating many foods because they simply become too difficult to chew. Over time, this can lead to nutritional deficiencies, which can harm your general health.
In addition, your oral health can become compromised. When a tooth is lost, your underlying bone and structures begin to deteriorate. If it is not replaced, it can cause your remaining natural teeth to shift toward the open space because they no longer have the support they need to stay in place. As this occurs, they can become misaligned, making them difficult to clean. This can lead to an increased risk for tooth decay, gum disease, and additional tooth loss.
As you lose teeth, your self-esteem will also suffer from an incomplete smile. However, over time, you may also notice changes to your face as well. You can develop wrinkles and sagging skin as your teeth no longer support your facial structures properly.
To stop the challenges of missing teeth, Dr. Nowacki has the solutions you need.
Full Dentures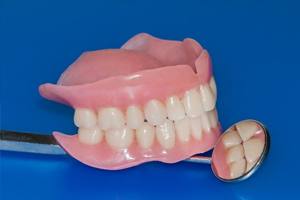 Dentures are commonly used to replace an entire are of teeth because they are affordable and convenient. While they often have a bad reputation for looking fake, new advancements allow them to look more natural, so you can smile with confidence.
Using impressions of your mouth, a custom-made base is created, which will match your gum color. It will feature prosthetic teeth that look natural to restore your ability to chew and speak. It is then held in place using suction or a denture adhesive. Now, elite technology allows it to stay in place for a comfortable fit to reduce slipping, discomfort, and irritation.
Partial Dentures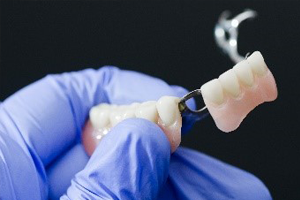 If you are missing several teeth, you can fill the empty space with a partial denture. Using impressions and exact measurements, prosthetic teeth are created that are attached to a gum-colored base. A metal framework is used to allow it to clip onto your remaining natural teeth. This not only completes your smile but provides your remaining teeth with the support they need to stay in place.
You can rest assured that your partial will look very closely to your natural teeth as we make them to match your exact size, shape, and color needs to blend in seamlessly with your smile. You will not have to worry about anyone noticing that they are not your own to restore your confidence.
Revitalize Your Appearance
By treating your tooth loss with dentures or partials, you will make a true investment in your quality of life and confidence. You will once again enjoy your favorite foods while speaking clearly. With a complete smile, you will protect your facial structures to prevent against an aged appearance due to premature sagging skin and wrinkles.
Complete Your Smile Today!
If you are ready to stop living with the challenges of tooth loss, it is time to schedule an appointment with Dr. Nowacki. He will create a customize treatment plan to start your journey to a complete smile.