Dental Crowns & Fixed Bridges – Palm Bay, FL
Repairing & Replacing Damaged Teeth for Healthy Smiles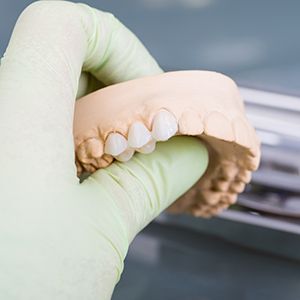 Is there a space in your smile formed by missing teeth? Are you interested in permanently restoring your pearly whites? Our skilled dentist, Dr. Christopher Nowacki, is practiced with using dental crowns and bridges in our Palm Bay, FL dental office to replenish the teeth of his Florida patients. Please call us today to schedule an appointment. Our understanding team will let you know if crown and bridge therapy would benefit you.
A bridge is a row of false teeth that resembles a partial denture. Dr. Nowacki can attach the prosthetic to your smile by cementing it in place with dental crowns to the teeth adjacent to the space. This is a permanent method of tooth replacement; once a bridge is placed, only a dentist will be able to remove it safely. A bridge's longevity is what makes it so successful and popular with restorative dentistry patients. Letting your smile go untreated can create problems with your bite and other areas of your oral health. When teeth are lost or knocked out, the other teeth along the gums will shift inward to close the gap. This leads to difficulties with bite function, alignment, and gum disease. However, when crown and bridge therapy is used, the bridge provides a stable barrier to prevent teeth from shifting. Using crown and bridge therapy can restore both your health and your happiness!
You should know that a bridge will not stain or discolor as easily as natural teeth will. If you'd like to improve the color of your smile as well, ask our friendly Palm Bay dental staff about teeth whitening services to brighten your beam. Once we've finished whitening your smile, we'll be able to better match your bridge!
Please call us today to schedule your crown and bridge consultation. Dr. Nowacki treats crown and bridge therapy patients from Palm Bay, Sebastian, Vero Beach, Melbourne, and the surrounding Florida areas.