Teeth Whitening – Palm Bay, FL
Brighten Your Smile with Professional Teeth Whitening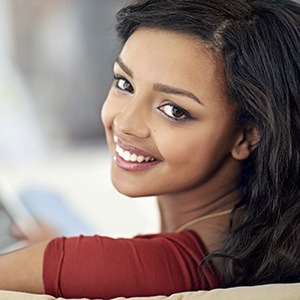 Over the years, teeth can become duller with age. If you would like to revitalize your enamel and refresh your appearance, please contact us today to schedule a teeth whitening appointment. Dr. Christopher Nowacki may be able to lift stains and lighten enamel with KöR Teeth Whitening in our Palm Bay, FL dental office.
During a teeth whitening appointment, your trusted dentist will evaluate your smile before the treatment begins. We want to check that your mouth is in a healthy condition, after all! After Dr. Nowacki has determined that you would benefit from a teeth whitening appointment, we can brighten your teeth in our dental office. Our team prefers to use KöR Teeth Whitening during our teeth whitening procedures.
Those who have undergone teeth whitening with the KöR Whitening system have reported that the whitening gel produces little to no tooth sensitivity. Plus, we'll fit you with a customized whitening tray for your at-home whitening applications. This teeth whitening technique is unique because you'll begin by whitening at home, according to your own schedule. You simply load the whitening tray with the KöR Teeth Whitening gel and wear it. These applications usually last from twenty to thirty minutes each day, and after this step in the system is completed, you'll return to the dental office.
While using the at-home part of the system can produce appealing results, the final step is what really takes your enamel the extra mile! KöR Teeth Whitening brings back your teeth's capacity to absorb oxygen, which allows your enamel to react fully to the whitening gel and erase even deep-seated stains. Boost your appearance with teeth whitening today!
Please call to schedule your teeth whitening visit. Dr. Nowacki is happy to see patients from Melbourne, Sebastian, Vero Beach, and the surrounding Florida communities at our Palm Bay dental office.