Frequently Asked Denture Questions – Palm Bay, FL
Get Answers to Common Questions About Advanced Tooth Replacement Options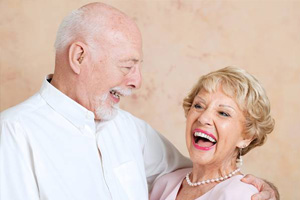 At Beautiful You Dental, we know how stressful extensive tooth loss can be, and our skilled Palm Bay dentist and dentistry team are here to make the tooth replacement process simple and stress free. Before you begin any advanced treatment plan, it's essential that you get answers to all of your questions and feel 100% confident in your care plan. On this page, we've provide basic answers to some of our frequently asked denture questions, but this is by no means a complete list. If you don't see your question here or you need more information, please call our dental office. One of our knowledgeable team members would be happy to discuss tooth replacement options over the phone when possible, and we can schedule a consultation visit for you to ask more questions and get all the information you need.
What are Partials?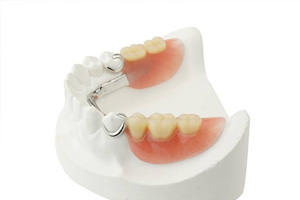 Partials are tooth replacement prosthetics that fill gaps in the smile. Following extensive tooth loss, these dentures allow us to retain healthy teeth while restoring healthy function. These tooth replacement prosthetics use a gum colored base material that is crafted to fit between healthy teeth. The replacement teeth are attached to this base, and the entire partial denture is anchored in place with clasps attached to healthy teeth.
What are Full Dentures?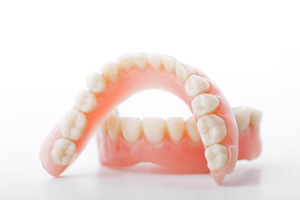 Full dentures also use a gum colored base material to support replacement teeth. Because there are no remaining teeth to provide support, the base material is crafted to fit against the gum line, creating suction that holds the denture in place. For added support, some patients choose to use a small amount of denture adhesive.
What are Implant Dentures?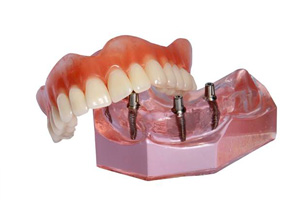 Implant dentures can be either partial or full tooth replacement prosthetics. Prior to placement, they closely resemble removable dentures. However, these tooth replacement prosthetics are attached to dental implant posts that mimic natural root structures holding your denture in place.
How do I Care for My Denture?
If you have a removable denture, you should take it out every night before you sleep. Gently brush the denture using a soft toothbrush or denture brush. Then, store the prosthetic overnight in water or cleaning solution. If you have remaining healthy teeth, continue to brush and floss them each day to avoid additional tooth loss. If you are fully edentulous (without teeth), you can carefully brush your gums to remove food and plaque, and you may want to use an antimicrobial mouth rinse to keep your gums healthy. Patients with implant retained dentures can brush these prosthetics the way they would healthy, natural teeth. Flossing will be a little trickier. We can show you the proper technique to remove plaque and food that can get trapped between the denture base and gum tissue. Regardless of what type of denture you select, visiting our dental office every six months is essential. During these biannual dental appointments, we'll examine the fit and function of your denture and help you keep them looking and feeling great. Traditional dentures typically need to be replaced every five to ten years, but with proper care, your implant-retained denture may last for two decades or longer.
Can I Eat all My Favorite Foods?
Depending on the type of denture you receive, you may need to make some changes to your diet to avoid damaging the tooth replacement prosthetic, choking, or causing the denture to shift. Partial dentures are clasped into place firmly against surrounding teeth, and most patients experience 30% or greater restoration of chewing range. Removable full dentures can replace as much as 20% of healthy function when properly fitted. For the most stability, an implant partial or full denture is ideal. Patients with implant-retained dentures experience restoration of as much as 70% of natural chewing function. No two patients are exactly alike. We encourage you to try to eat foods, carefully, to discover your limits.