Implant Dentures – Palm Bay, FL
Secure Your Dentures for a Natural-Feeling Smile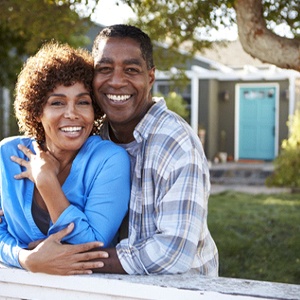 Are you one of the estimated 35 million Americans who don't have any natural teeth left? If so, you've likely tried dentures, but despite your high hopes, they never quite felt natural. Luckily, there's another option – implant dentures. By securing a set of prosthetic teeth onto dental implants, implant dentures in Palm Bay, FL come the closest to recreating the look, feel, and function of your original teeth. Here at Beautiful You Dental, Dr. Christopher Nowacki can complete every step of the treatment process right here in our office. Contact us today to get started!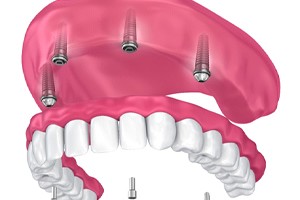 What Are Implant Dentures?
Traditional dentures are held in place with suction and/or adhesive, leaving them prone to slippage. Conversely, implant dentures are designed to always stay in place because they're anchored onto a small number of dental implants – titanium posts that essentially act as replacement tooth roots.
Depending on your oral health needs as well as your personal preferences, you can get one of two types of implant dentures:
Fixed/Permanent Implant Dentures
A "permanent" implant denture is fixed onto the implants in such a way that only a trained implant dentist in Palm Bay can remove it. It remains in your mouth at all times, meaning you can brush and floss it like natural teeth and possibly even forget that your teeth were lost to begin with! Usually, a fixed implant denture requires somewhere between four and eight implant posts for support.
Removable Implant Dentures
We can also design your implant denture so that you can take it out at any time for cleaning, just like a conventional denture. Often, removeable implant dentures are ideal for patients who have less jawbone density and don't wish to undergo a bone graft, as they typically only require two to five implants at most.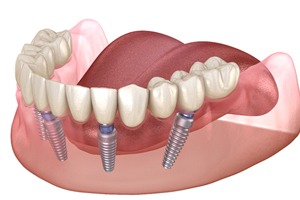 The Implant Denture Process
Once Dr. Nowacki has determined that you're a good candidate, he'll schedule you for the surgical placement of your implants. Because he can perform this procedure himself, you'll avoid the inconvenience (and added expense) of needing to visit outside specialists.
After numbing your mouth and creating small incisions in your gum tissue, Dr. Nowacki will carefully insert the implant posts into your jawbone. Once the posts have bonded to your jawbone, which can take up to six months, we can attach metal connector pieces called abutments on top of the posts. Using digital impressions of your mouth, your denture is then designed to meet your exact needs for aesthetics and function. Once we place the denture onto your abutments, your new smile will look and feel flawlessly natural!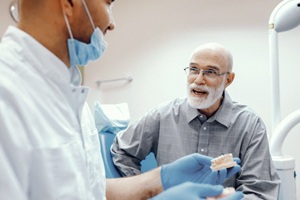 Am I a Good Candidate for Implant Dentures?
In most cases, if you have good oral and general health, you'll be eligible for dental implants in Palm Bay. Still, Dr. Nowacki will need to conduct a thorough consultation first. In addition to your oral health, your medical and lifestyle history will be discussed. Diagnostic images are also taken to assess the health of your jawbone. Based on this information, you may need additional procedures before you can have your implant posts placed, such as tooth extractions, bone grafting, or a sinus lift.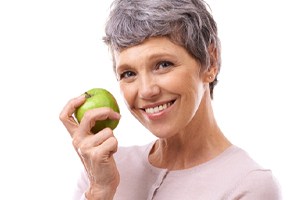 The Benefits of Combining Dentures with Dental Implants
With implants securing your denture in place, you can enjoy a wide range of benefits that are not possible with regular dentures, such as:
95% success rate.
Potential to last for decades – saving you money on denture replacements in the long run.
Increased biting force that lets you eat all of your favorite foods.
Prevention and even reversal of the jawbone loss that occurs after teeth have gone missing.
Replacement teeth that look and feel natural.
Easy care and maintenance.