Create a beautiful smile with the help of porcelain veneers!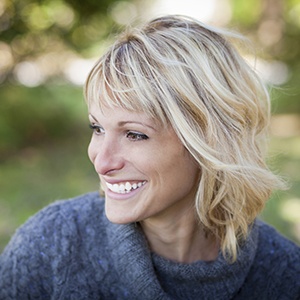 Have you damaged a tooth? Accidents can easily chip or crack the precious enamel that a tooth consists of, which will leave embarrassing, highly visible marks on your smile. Dr. Christopher Nowacki can use porcelain veneers to cover this harm from sight. Call us today to schedule an appointment to help camouflage your injured smile. Our friendly and helpful team is prepared to assist you and do what's best for your smile.
A porcelain veneer is a tooth-shaped, extremely thin piece of ceramic. It's permanently placed over a tooth to hide any cosmetic flaws in your mouth's appearance. Dr. Nowacki has extensive experience in placing veneers. This type of veneer allows for minimal to no tooth preparation and creates a truly elegant smile. During your complimentary veneer consultation appointment, our team will discuss your desires and show you an "as if" veneer mockup directly on your teeth.
A porcelain veneer is constructed from a durable ceramic, and the materials used to make it are actually stronger than a tooth's enamel. This type of veneer allows for minimal tooth preparation, and the range of available coloring shades make it possible for the veneer to blend in with your smile. When we receive your porcelain veneers, you'll return to our Palm Bay office to have them placed. Using a strong, dental composite, we can permanently place the piece. You'll be able to smile self-assuredly once again, thanks to our porcelain veneer treatment!
Please call us today to arrange an appointment at our Palm Bay practice! Dr. Nowacki sees patients from Palm Bay, Melbourne, Sebastian, Vero Beach, and nearby Florida locations.