Porcelain Veneers – Palm Bay, FL
Create a Beautiful Smile You're Proud to Share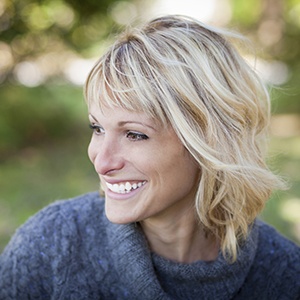 Have you damaged a tooth? Accidents can easily chip or crack the precious enamel that a tooth consists of, which will leave embarrassing, highly visible marks on your smile. Dr. Christopher Nowacki can use porcelain veneers in our Palm Bay, FL dental office to conceal this damage. Call us today to schedule an appointment to help camouflage your injured smile. Our friendly and helpful team is prepared to assist you and do what's best for your smile.
A porcelain veneer is a tooth-shaped, extremely thin piece of ceramic. It's permanently placed over a tooth to hide any cosmetic flaws in your mouth's appearance. Dr. Nowacki has extensive experience in placing veneers. This type of veneer allows for minimal to no tooth preparation and creates a truly elegant smile. During your complimentary veneer consultation appointment, our team will discuss your desires and show you an "as if" veneer mockup directly on your teeth.
A porcelain veneer is constructed from a durable ceramic, and the materials used to make it are actually stronger than a tooth's enamel. This type of veneer allows for minimal tooth preparation, and the range of available coloring shades make it possible for the veneer to blend in with your smile. When we receive your porcelain veneers, you'll return to our Palm Bay dental office to have them placed. Using a strong, dental composite, we can permanently place the piece. You'll be able to smile self-assuredly once again, thanks to our porcelain veneer treatment!
Please call us today to arrange an appointment at our Palm Bay dental office! Dr. Nowacki sees patients from Palm Bay, Melbourne, Sebastian, Vero Beach, and nearby Florida locations.
Porcelain Veneers FAQs
Do you want to completely transform your smile that has been marred by chips, cracks, gaps, or stains? With porcelain veneers in Palm Bay, you can kiss all of those aesthetic dental imperfections goodbye. At Beautiful You Dental, we want all of our patients to be fully confident in their treatments. However, we understand that even with the information provided on this page, you might still have a few concerns. That's why we've taken the time to answer some frequently asked questions about veneers below.
How Much Do Porcelain Veneers Cost?
Because there are multiple factors that can contribute to the price of your veneers, it's almost impossible to provide you with a cost estimate without having Dr. Nowacki examine your smile first. Your cost might be affected by factors like how many veneers you're getting, the specific teeth on which they will be placed, and more.
While veneers are usually not covered under dental insurance (since they're often deemed an elective procedure), our team will gladly look over your plan to determine if you have use any of your benefits. If not, you may qualify for a low-interest loan through CareCredit to help you fund your new smile without breaking the bank.
Am I a Good Candidate for Porcelain Veneers?
In most cases, if you want to correct a cosmetic issue in your smile, then porcelain veneers may be right for you. Generally, as long as you're in good oral health, you're a good candidate for veneers. However, any structural oral health issues, such as cavities, must be addressed prior to placing veneers. Also, if you grind your teeth at night, we recommend wearing a nightguard to protect your veneers from damage and ensure they last.
How Long Do Porcelain Veneers Last?
With the right care, porcelain veneers can last for 10 to 20 years or even longer. Follow these simple tips to prolong their lifespan:
Gently brush your teeth every morning and every evening.
Floss at least once daily.
Visit your cosmetic dentist in Palm Bay for a checkup and cleaning twice a year.
If necessary, wear a personalized nightguard to prevent damage from chronic teeth grinding.
Avoid chewing on extremely hard foods, ice, or inedible objects such as pencils or fingernails.
Quit smoking.
Will Porcelain Veneers Look Natural?
Yes! Each veneer is 100% customized to match the size, shape, and color of the rest of your teeth. You won't have to worry about your veneers standing out in your smile and broadcasting the fact that you got dental work done. Even better, dental porcelain is incredibly resistant to staining, so you can enjoy having a bright new smile for years to come!