Tooth-Colored Fillings – Palm Bay, FL
Your Invisible Restoration Option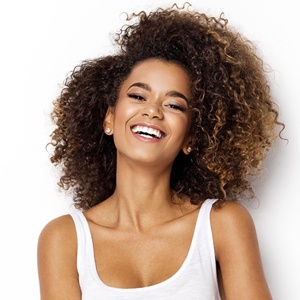 For many years, amalgam fillings were the best restoration option for addressing cavities. This kind of filling doesn't bond well to teeth, so additional tooth structure had to be removed to ensure that it would stay in place. Plus, amalgam would leave silvery blobs on your teeth, letting everyone know where you had tooth decay in the past. Well, those days are over. At Beautiful You Dental, we use tooth-colored fillings in our Palm Bay, FL dental office to address cavities and seamlessly restore your smile to its full function and appearance.
What are tooth-colored fillings made of?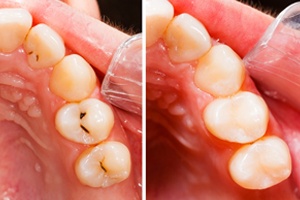 While traditional amalgam fillings contain a metal compound of mercury, silver, tin, and copper, tooth-colored fillings have no metal whatsoever. Instead, they consist of composite resin, a material that combines plastic and fine ceramic particles and can be shaded to match your enamel color. It is flexible and biocompatible, and it also bonds directly with your tooth for a strong seal. Because of this strong bond, less enamel needs to be removed to place tooth-colored fillings than with amalgam fillings, enabling you to keep your healthy teeth for longer.
What are the benefits of tooth-colored fillings?
Although amalgam fillings can last for many years and are very durable, they have some obvious disadvantages. On the other hand, tooth-colored fillings have many beneficial traits, including the following:
They look natural.
They preserve more healthy tooth structure.
They can protect against hot and cold sensations better.
They help prevent future decay.
They support and strengthen your tooth.
How are tooth-colored fillings placed?
When Dr. Nowacki has found a cavity, filling it goes according to this process:
He will administer a local anesthetic to numb the affected tooth.
Then, he will remove the infected portions, ensuring that your remaining tooth structure is healthy and free from harmful bacteria.
He will match the color of the resin to your tooth enamel.
The putty-like material will be placed into your tooth and sculpted into the desired shape.
A curing light will harden the resin more quickly.
Nowacki will then make any last fine-tuning adjustments to the resin, such as smoothing rough surfaces.
In one short appointment, you can go from having a decayed tooth to full oral health. It's that simple!
Do tooth-colored fillings need special care to maintain?
All dental work requires some maintenance. Luckily, however, caring for your tooth-colored fillings is the exact same as caring for your natural teeth. You just need to brush and floss daily and come to our Palm Bay dental office for dental checkups and cleanings twice a year.
At Beautiful You Dental, our team is dedicated to helping you achieve a happy, healthy smile. Contact us today to schedule your next appointment!