ClearCorect – Palm Bay, FL
Custom Alignment Tray Othodontics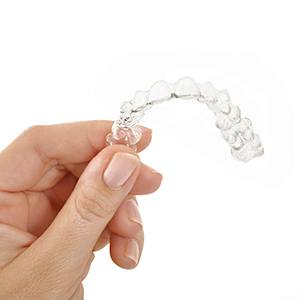 Never underestimate what having straight teeth can do for you, but not just in terms of how a well-aligned smile looks and how it makes you feel. There are several oral health benefits, too. Most of all, straight teeth are much easier to clean, which means your risk of tooth decay and gum disease is reduced. But if you didn't wear braces as a child or teenager, then you may not want to contend with traditional metal braces now. In that case, consider ClearCorrect from our Palm Bay, FL cosmetic dentist. With this type of orthodontics in Palm Bay, you can straighten your teeth and hardly anyone will notice.
What is ClearCorrect?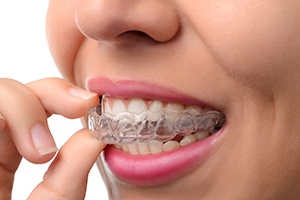 Unlike traditional braces, ClearCorrect uses an ordered series of clear plastic aligners to apply pressure to your teeth so that each one moves into correct alignment. But like traditional metal brackets and wires, ClearCorrect braces can be used to treat a number of malocclusions including crooked or overcrowded teeth, crossbites, overbites, and underbites.
As your dentist in Palm Bay that also provides orthodontic treatment, Dr. Nowacki will determine if you are a good candidate for adult orthodontics. He will consider your occlusion, as well as your dental and oral health history.
What's Involved in Getting ClearCorrect?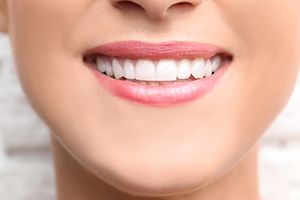 Once you are qualified, a comprehensive collection of photographs, X-rays and impressions capture the shape and positioning of your teeth. We'll send these to ClearCorrect, where your customized aligners will be designed and manufactured.
It's your responsibility to wear your ClearCorrect clear braces every day for at least 22 hours per day. This will help ensure the timely completion of your orthodontic treatment. Of course, total treatment time varies from patient to patient, but you can expect to be wearing your aligners for one or two years.
What Are the Advantages of ClearCorrect?
ClearCorrect offers certain advantages over traditional braces. First and foremost, is the fact that ClearCorrect is far less noticeable than standard braces. Sure, they're noticeable at close range, but otherwise you'll be able to confidently engage in your normal social and professional obligations.
And because ClearCorrect braces are removable, you'll be able to eat whatever you like. Just remove your braces at mealtime and enjoy all the foods you normally eat. There aren't any restrictions. Likewise, you'll be able to maintain your regular oral hygiene routine. Brushing and flossing can be more difficult with metal brackets and wires attached to your teeth. With ClearCorrect, however, you can brush and floss as usual and thereby avoid any greater risk of decay or gum disease.
At the conclusion of your treatment, we'll give you a retainer to maintain the new positioning of your teeth. Wear this as Dr. Nowacki instructs, and you can look forward to a lifetime of straight teeth.
ClearCorrect Frequently Asked Questions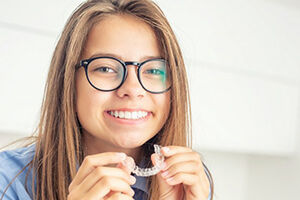 Every year, more and more people choose ClearCorrect as their preferred method of orthodontics in Palm Bay over traditional metal braces. After all, they provide similar results in a fraction of the time, with a multitude of benefits. At your ClearCorrect consultation, Dr. Nowacki can address any concerns you may have about the treatment. In the meantime, however, you can read this list of some of the frequently asked questions we receive about ClearCorrect.
Will Wearing the Aligners Hurt?
When you first begin treatment or switch to a new set of aligners in the series, it's normal to experience some degree of tenderness or sensitivity. It's important to note that this is a sign your treatment is working. ClearCorrect straightens your teeth by exerting a gentle pressure on them, which gradually shifts your smile into the proper alignment.
Any discomfort you experience should fade within a couple of days as your mouth gets used to the new aligners. You can speed this process up a bit by switching to a new set right before bed, so that you sleep through the first several hours of the adjustment process.
How Do I Keep the Aligners Clean?
Fortunately, the aligners are fairly simple to keep clean. Always rinse them off with cold or lukewarm water when you take them out. Just be sure to not use hot water, as that could change the shape of the plastic. At least once a day, brush your aligners with a soft-bristled toothbrush to remove built-up food particles and plaque that could discolor your trays and contribute to cavities or gum disease. Additional cleaning instructions are on every bag of new aligners.
What Can I Expect When I'm Done with Treatment?
Depending on the severity of your dental misalignment, you may have to wear a retainer once you're finished with ClearCorrect in Palm Bay. A retainer should prevent your teeth from shifting back into their original crooked position. The duration of the time you'll be required to wear a retainer is different for everyone. In many cases, you'll have to wear one as often as you did your aligners for a few weeks or months, and then you can switch to only wearing it at night.
Is ClearCorrect Safe for Pregnant or Nursing Patients?
Yes! ClearCorrect aligners are 100 percent BPA-free and have been approved by the FDA. They are free from any chemicals that could harm pregnant or nursing patients or their babies. However, it's up to you and Dr. Nowacki to determine if ClearCorrect treatment is right for you.