September 12, 2023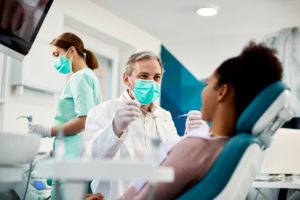 If you've been avoiding the dentist's chair because you're self-conscious about the state of your teeth, you are not alone! Many patients cite embarrassment as their reason for missing appointments. This creates a vicious cycle, because the longer your teeth and gums go without receiving the preventative care they need, the more likely you are to develop real problems.
If you're worried about the condition of your smile now, it's not going to get better on its own. Fortunately, your dentist is more concerned about keeping you healthy than about judging you. Continue reading if your anxiety has held you back, and 3 reasons why you shouldn't let it!
Reason #1: You're Not the Worst Case
Even if you are ashamed of the current condition your teeth are in, your dentist has likely seen worse. Experienced dentists have seen teeth in all sorts of conditions- so much so that yours isn't likely to stand out in a negative way. In fact, of all people, they're the most likely to understand how dental issues can impact how we feel about ourselves. It's their job to address the areas of concern, not to make hurtful remarks.
Reason #2: They're Glad You're There
Your dentist's goal is to keep your teeth and gums strong so you can have the smile you deserve. That means they're glad that you're receiving the care you need even if it's been a while since your last visit. This might be especially true if it's been a long time. They know that problems can worsen if they aren't handled properly. By the time they see you, they want to give you high-quality care- not a guilt trip!
Reason #3: The Issue Might Be Fixable
If you've lost hope that damage to your teeth can be repaired, think again! Developments in dental technology over the years have led to new methods, materials, and treatments to correct our pearly whites in new ways. Even if in the past your dentist didn't have solutions, it's entirely possible that today they could.
If you have been so self-conscious that your mouth is too gross to see the dentist, set your fears aside. Yes, it's possible that your dentist will encourage you to visit more frequently, but this isn't done to upset you. They just want to make sure your oral healthcare needs are met so that you can boast a beautiful smile for years to come!
About the Author
Dr. Christopher Nowacki earned his Doctor of Dental Medicine in 2004. He provides patients of all ages in the Palm Bay and surrounding communities with honesty and respect. Whether you need general checkups or have a dental emergency, you'll receive quality care you can trust. You are welcome to contact the office on the website or call (321) 724-9300 to request an appointment.
Comments Off

on 3 Reasons Why Your Dentist Isn't Judging You
No Comments
No comments yet.
RSS feed for comments on this post.
Sorry, the comment form is closed at this time.