June 15, 2023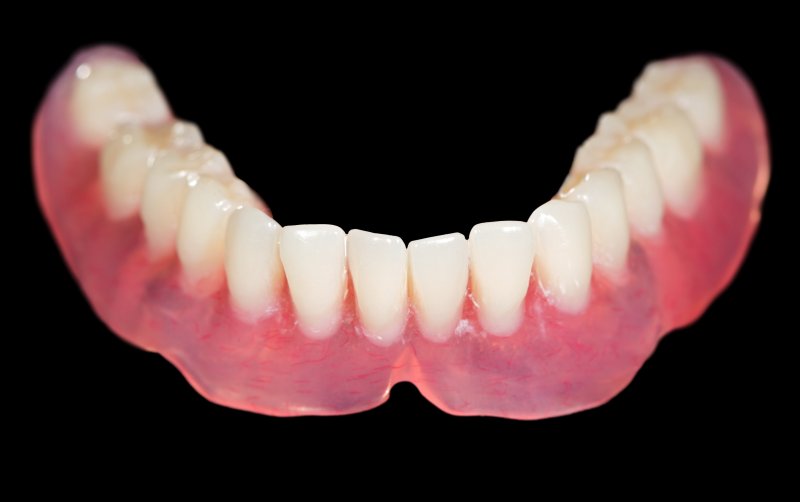 You might assume lower dentures are the most secure kind. After all, can't they rely on gravity to simply stay in place? In truth, though, loose lower dentures are more common than you'd think. Such prosthetics tend to unstick over time and when used often. Luckily, your Palm Bay dentist knows a few ways to keep them steady. Read on, then, to learn why lower dentures don't always stay still and some tips on securing them.
Why Won't Lower Dentures Stay Still?
Contrary to what you'd imagine, lower dentures have a reputation for looseness. They don't get to adhere to a large area of stationary anatomy. As a result, the restorations can loosen from:
A Negative Ridge
If you're lucky, your jaw might have the bone height and width to secure a lower denture. Security is even more likely if your lower ridge has a U-shape.
All that said, sometimes luck isn't on your side. Your lower jaw may have greatly eroded instead. In that case, there'd be too little jawbone to support a denture. You'd thus have a flat or negative ridge.
Non-aligned Denture Teeth
Generally, lower dentures are designed to ensure stability and functionality. This design ensures the prosthetics only need (at most) a smidge of adhesive for extra security.
Unfortunately, a patient may want denture teeth in front of the ridge. (The idea is that this approach makes lips look fuller.) That sort of alteration, though, comes at the cost of function. You wouldn't be able to speak or eat without the denture moving.
Tips for Keeping Lower Dentures Secure
Despite their reputation, lower dentures can be made more secure. It's just a matter of following the right practices. For example, try using the tips listed below:
Practice Constantly – Given enough effort, you can train your face and tongue to adjust to dentures. However, this regimen requires changing your eating and speaking habits accordingly.
Apply Denture Adhesive – Even if you don't like them, denture adhesives can keep a bottom denture stable. All you'd need is roughly three small dots' worth. Still, remember that an adhesive can't help a poorly-shaped or ill-fitting denture.
Try Implant Dentures – By using dental implants, it's pretty easy to keep lower dentures in place. The posts would fuse with your jaw and ensure the connected restorations don't move.
As you can see, loose lower dentures don't have to mean a failed treatment. You can quickly correct the problem with tips like those above!
About the Practice
Beautiful You Dental is based in Palm Bay, FL. Led by Dr. Nowacki, our practice tries to give each patient the personalized dentistry they deserve. To that end, we offer preventive, cosmetic, and restorative services tailored to your unique smile. We also offer custom orthodontic appliances like metal braces and Invisalign clear aligners. For more information or to book a visit, you can reach us at our website or by phone at (321)-724-9300.
Comments Off

on Why Doesn't Your Lower Denture Stay in Place?
No Comments
No comments yet.
RSS feed for comments on this post.
Sorry, the comment form is closed at this time.