March 2, 2023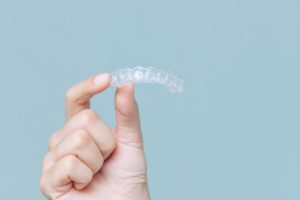 Now, more than ever, you can improve your smile conveniently and comfortably. To straighten your smile, your only option used to be the metal brackets and wires of traditional braces. In today's world, advancements in technology have made it possible to align your teeth with clear aligners. These removable trays are discreet and easy to care for. However, some people want even more convenience by ordering mail-in aligners instead of visiting their dentist. While this may save you time and a bit of money, it can be harmful to your smile. Read on to learn the dangers of mail-in aligners and why it is best to stick with a professional treatment like ClearCorrect.
#1. You Won't Undergo a Comprehensive Exam
If you'd like to get orthodontic treatment to fix your smile, it's essential to get a full dental examination from your dentist. Straightening your teeth will affect more than just your teeth; it impacts your bite and alignment so it's important a professional can see the best way to help you with your dental issue.
On the other hand, mail-in aligners are a one-size-fits-all treatment, requiring no examination. You just send in pictures and self-done putty impressions, which don't adequately tell the full story of your specific needs. You not only risk a more painful experience, but inadequate results.
#2. Your Treatment Won't Be Monitored by a Licensed Professional
For successful and long-lasting orthodontic care, you will need a customized treatment plan from a licensed dentist. This plan will be based on your examination and specialized to achieve your personalized goals. As you progress with your metal or clear braces, you will regularly visit your dentist so they can monitor your progress and ensure your teeth are being corrected according to plan.
If you choose to get mail-in clear aligners, your progress won't be monitored. This can cause your teeth to shift in the wrong direction or even abnormally! Unfortunately, this could lead to major damage to your smile and cost you even in the future.
#3. Your Aligners Can Negatively Impact Your Bite and Speech
While pearly whites are what make a smile beautiful and unique, they also help you speak properly and eat to nourish your body. If your teeth get out of alignment, it can impact your life in more ways than just aesthetically. When you straighten your teeth with a dental professional, they can monitor your bite and how the movement of your teeth is impacting your chewing and speaking.
As stated above, you won't have a dentist help you keep your smile going in the direction you want it with mail-in aligners. As a result, you risk permanently impacting your bite and speech in a negative way. This is why reputable dental organizations like the American Association of Orthodontists and the American Dental Association have publicly spoken out against these companies. While they may offer equal results to other clear braces like ClearCorrect at a fraction of the cost, you increase the chances of damaging your oral health and your smile.
About the Author
Dr. Christopher Nowacki and his team at Beautiful You Dental keep the smiles of Palm Bay healthy and beautiful. He earned his Doctor of Dental Medicine in 2004 and is an active member of several dental associations, including the American Dental Association. With a focus on high-quality care and building relationships, he offers a range of dental services, including orthodontics like ClearCorrect. To schedule a consultation, contact him through his website or call (321) 724-9300.
Comments Off

on 3 Reasons to Avoid Mail-in Aligners to Straighten Your Smile
No Comments
No comments yet.
RSS feed for comments on this post.
Sorry, the comment form is closed at this time.