November 4, 2022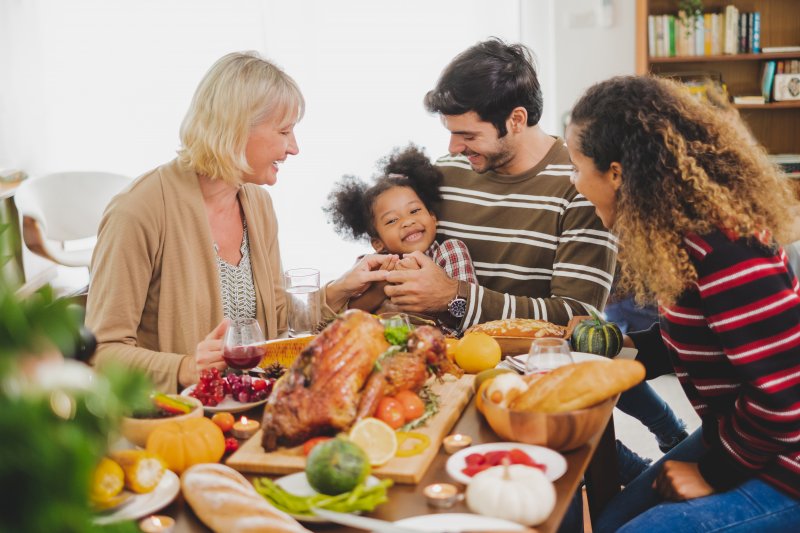 Thanksgiving is getting closer, so you're likely starting to think of the holiday foods you'll get to eat. Turkey is an obvious choice, but you might get a chance to have tasty sides and desserts too! That said, remembering your oral health during this holiday would be a good idea. They might not look the part, but Thanksgiving items could ruin your smile if you aren't careful. Thankfully, your Palm Bay dentist can ensure you have tooth-friendly meals. Here are five helpful tips for a healthy Thanksgiving safe for your teeth.
Go Light on the Sugar
As you might already know, sugar has harmful effects on teeth. In particular, it attracts harmful bacteria that can cause cavities and tooth decay. Worse yet, it tends to create extra plaque on your pearly whites.
Given this fact, go light on sugar in your Thanksgiving meals. For instance, don't have too much candy, cranberry sauce, soda, or pie. If you do eat or drink high-sugar items, though, at least clean your mouth throughout the day.
Try To Avoid Sticky Foods
Thanksgiving foods can often be sticky — think of marshmallows, candied pecans, and desserts with caramel. Unfortunately, though, such products do a lot of damage to teeth.
You see, sticky foods often get stuck in your mouth (hence their name). As such, their sugar content has time to erode your enamel and create plaque. Left unchecked, these items can increase your risk of tooth decay, cavities, gum disease, and other oral health issues.
Be Careful with Hard, Sharp Foods
In some families, Thanksgiving involves hard and sharp snack foods. After all, plenty like to snack on chips, nuts, popcorn, and more during Turkey Day football.
Even so, you should be careful when eating such things. These items can stab your gums, get stuck between teeth, or even lodge themselves in dentures or braces. Therefore, chew these foods gently and with some dental floss handy.
Stick to Designated Eating Times
Ultimately, how much you eat on Thanksgiving can matter as much as what you eat. If you have extra food throughout the day, you'll just expose your teeth and gums to more plaque. Should that happen, your risk of oral problems will increase. Given this fact, you should stick to designated eating times to avoid snacking!
As you can see, your oral health doesn't get to take a holiday as you do. Follow the tips above, then, to ensure your smile has a healthy Thanksgiving!
About the Practice
Beautiful You Dental is based in Palm Bay, FL. As led by Dr. Nowacki, our practice emphasizes quality dental care for patients of all ages. That being the case, we perform preventive, cosmetic, and restorative dentistry, not to mention emergency procedures. Plus, you can trust our results thanks to our office's advanced dental technology! For more information or to book a visit, reach us at our website or by phone at (321)-724-9300.
Comments Off

on 4 Ways to Make Your Thanksgiving Dinner Tooth-Friendly
No Comments
No comments yet.
RSS feed for comments on this post.
Sorry, the comment form is closed at this time.