July 14, 2022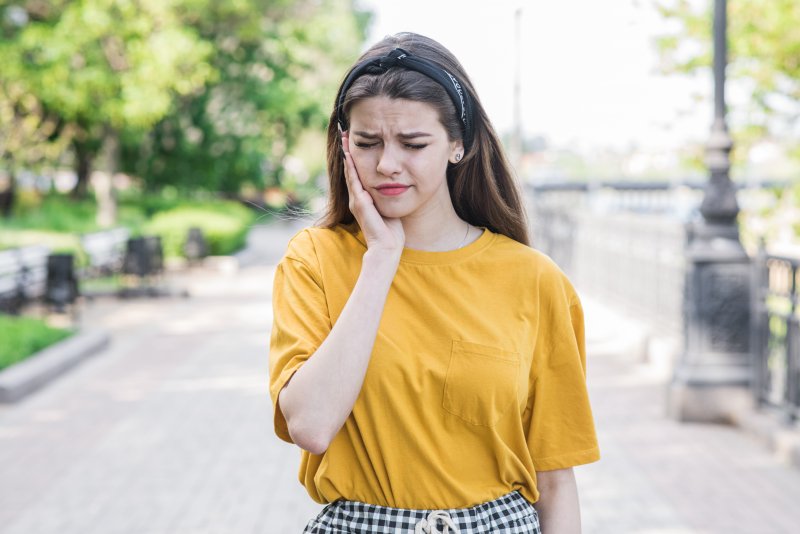 Having a dental emergency is usually bad enough on its own. You may face severe tooth damage, a gum infection, or even missing teeth! However, dealing with one during your summer vacation is even worse. What you'd hoped would be a relaxing, fun time in the sun becomes a stressful situation with high urgency. Thankfully, your emergency dentist in Palm Bay can help with the latter scenario. Here are three things you should do for a summer dental emergency, including some tips to prevent them in the future.
What to Do for a Dental Emergency on Vacation
1. Assess the Immediate Situation
The first step is to assess the damage. That way, you can give yourself temporary treatment until a permanent solution is available.
For example, take painkillers to help deal with a toothache. On the other hand, respond to a broken or cracked tooth by rinsing your mouth and applying a cold compress to your cheek to relieve swelling.
2. Find/See a Local Emergency Dentist
After tending to your injury, see an emergency dentist at once. Ideally, you'll have researched those near your vacation spot before traveling. If you haven't done so already, start now.
As for how to go about it, you have a few options. You could ask your hotel's concierge to provide you with a recommendation. You can also Google "dentist near me" and look up nearby practices.
3.     If a Dentist is Unavailable, Visit an Emergency Room
If you can't reach a dentist, head to the nearest ER. They may not have a dentist on staff, but they can ease your discomfort and provide you with needed care. Besides, it's important to treat severe oral pain right away.
Whatever you do, don't delay medical attention — that will only give your issue time to worsen.
Tips to Avoid Dental Injuries in the Future
Of course, it's best to avoid dental emergencies in the first place. That said, follow these tips so that future vacations don't involve dental issues:
Maintain your dental care routine before, during, and after your break.
Schedule a checkup with your dentist before you leave town.
Pack oral hygiene tools, including an over-the-counter pain reliever.
Eat fewer foods and drinks with high sugar content.
Avoid unhealthy habits — smoking, using your teeth as tools, etc.
Dental emergencies on a summer getaway are disruptive, so use the steps above to manage them effectively. Otherwise, just do what you can to keep them from happening — you'll want your trip to go as smoothly as possible!
About the Practice
Beautiful You Dental has served the people of Palm Bay, FL, for over thirty years. Currently led by Dr. Christopher Nowacki, their highly-experienced team provides dental care that exceeds all expectations. The procedures they offer span preventive, cosmetic, and restorative dentistry, not to mention emergency services. Innovative dental technology allows them to plan exact treatments. For more information or to book an appointment, reach them at their website or by phone at (321)-724-9300.
Comments Off

on What to Do for a Dental Emergency on a Summer Vacation
No Comments
No comments yet.
RSS feed for comments on this post.
Sorry, the comment form is closed at this time.