February 26, 2021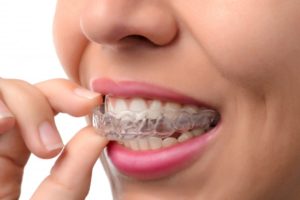 Cosmetic dentistry has come a long way, and when it comes to straightening your teeth, braces are far from being the only option these days. If given the option to have a straighter smile without having to wear metal brackets and wires on their teeth for months, most people would jump at the chance. Keep reading to learn what your Palm Bay dentist has to say about the benefits of ClearCorrect invisible braces and how you can transform your smile without having to sacrifice your self-confidence.
The Benefits of ClearCorrect Invisible Braces
When it comes to having a straighter smile, you shouldn't have to struggle with feeling self-conscious about your teeth throughout the process. In addition to aesthetics, here are some of the benefits that come with choosing ClearCorrect over braces to perfect your smile:
It's Virtually Invisible
Have you been putting off straightening your smile because you don't want to feel like you have to hide it for months because of bulky brackets and wires? ClearCorrect invisible trays are almost impossible to see, and you can feel confident to smile for all the pictures and laugh out loud with your friends, all while your smile becomes straighter by the day.
You Can Remove It
Although your dentist will recommend that you wear your ClearCorrect aligners for 22 hours per day in order to stay on track with the treatment, you can absolutely remove it while eating and drinking. Once braces are attached to your teeth, they're not coming off until your dentist says it's time. Being able to remove clear aligners to brush and floss your teeth not only helps you keep them cleaner, but it also gives you the chance to deep clean the aligners.
Treatment Time is Often Faster
If you want a straighter smile, you probably want it ASAP! Most good things take time to come to fruition, but fortunately, the treatment time for ClearCorrect is faster than traditional braces. Of course, this depends on your individual needs which will be different from others, but typically, ClearCorrect's treatment time is between one to two years, whereas braces can take up to three.
Don't let the fear of brackets and wires deter you from having the smile of your dreams any longer. Talk to your dentist about the advantages of ClearCorrect and how it can work for you!
About the Practice
Dr. Christopher Nowacki is an expert when it comes to straightening smiles. He understands how important it is for you to have a smile that you can be proud of. His years of experience and expertise make his practice the best choice in Palm Bay when it comes to perfecting your smile. Are you ready to talk about ClearCorrect? Schedule a consultation online or call (321) 724-9300.
Comments Off

on Braces Vs. ClearCorrect – What's the Difference?
No Comments
No comments yet.
RSS feed for comments on this post.
Sorry, the comment form is closed at this time.