August 10, 2020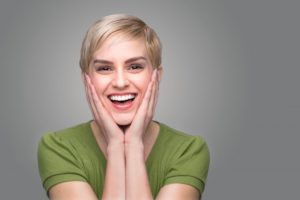 After months or years of patiently straightening your teeth, it's exciting to finally have your braces removed! However, now that you get to enjoy your perfectly aligned set of pearly whites, you may find that they're not as sparkling as you had hoped they'd be. Thankfully, your beautiful, bright smile is easily within reach. Here's everything you need to know about teeth whitening after braces in Palm Bay.
How Did My Teeth Become Discolored?
It's common for teens and adults to have somewhat discolored teeth after braces simply because of poor oral hygiene. It takes extra attention to thoroughly clean away plaque and bacteria from between metal wires and brackets. Half-hearted dental care allows these particles to build up on your teeth and darken their hue. What's more, tooth discoloration after braces can be particularly noticeable because of its uneven application—areas where your brackets were will be lighter and stand out when juxtaposed with the rest of your smile.
That's why when you're undergoing orthodontics in Palm Bay, it's essential to maintain a diligent dental routine throughout your treatment. You can also help prevent discoloration by avoiding dark-colored foods, not snacking throughout the day, and visiting your dentist regularly for cleanings.
When Can I Whiten My Teeth After Braces?
Once you've dedicated time and effort into straightening your teeth with braces, you deserve to have the stunning smile you've always wanted. However, orthodontists recommend waiting six months after having your braces removed to whiten your teeth for two main reasons: saliva and sensitivity.
Since metal brackets are stronger than enamel, wearing braces will slightly wear down your teeth. This can lead to tooth sensitivity, which can cause teeth whitening treatments to be uncomfortable. As your enamel regains its strength over the next six months, saliva will wash over your teeth constantly. Sometime, this is enough to do away with tooth discoloration! However, if your smile still doesn't shine as bright as you'd like after six months, it's time to talk to your dentist about teeth whitening.
What's the Best Way to Whiten My Teeth?
When it comes to teeth whitening in Palm Bay, there's no better choice than to visit your dentist for a professional treatment. While there are plenty of over-the-counter whitening products available, most can put you at risk of tooth sensitivity and gum irritation while only achieving subpar results. On the other hand, your dentist can use safe, reliable whitening agents to comfortably brighten your smile by several shades for years to come. With KöR Whitening from your Palm Bay dentist, a few simple at-home applications from a custom whitening tray and a final in-office treatment offer one of the most convenient ways to remove deep-seated stains and achieve a brilliant smile!
If you find that your smile is somewhat discolored after braces, talk to your dentist about teeth whitening. They'll go over your goals and inspect your oral health to help you determine the best path forward towards your ideal set of pearly whites.
About the Author
Dr. Christopher Nowacki of Beautiful You Dental has been helping the smiles of Palm Bay, FL and the surrounding communities look and feel their best for well over a decade. As an active member of organizations like the American Dental Association and the Academy of General Dentistry, he stays current with all the latest dental technology and techniques. As a result, he is proud to offer a wide variety of dental services, including both orthodontics and teeth whitening. To see if teeth whitening is right for you, he can be contacted via his website or at (321) 724-9300.
Comments Off

on Can I Get Teeth Whitening After Braces?
No Comments
No comments yet.
RSS feed for comments on this post.
Sorry, the comment form is closed at this time.