May 15, 2020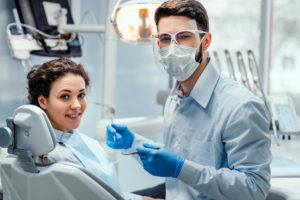 COVID-19 doesn't affect everyone the same way. People who are old or who have medical conditions that interfere with their respiratory or immune systems have the greatest risk of severe damage from the virus. If you are in this category, you've probably had to carefully think about the risks and benefits of participating in certain activities outside your home. One action you should consider after months of sheltering in place is getting your teeth cleaned. However, finding a good dentist is no longer as simple as typing "dentist near me" into your internet browser's search bar. Legitimate concerns about disease control can create significant anxiety for patients. In this article, a dentist in Palm Bay will discuss some of the most common concerns and share how dental practices are taking steps to address them.
1. Is Dental Treatment Really Necessary Right Now?
If you haven't had major dental problems in your life, you may be thinking about holding off on preventive care until the pandemic comes to an end. However, it's hard to say when the virus will no longer be a threat, and minor dental issues that are not detected and treated early can cause severe problems. Small cavities can grow and damage the vital tissues inside a tooth, and bacterial deposits that are allowed to collect beneath the gum line can cause a painful infection. Without dental care, you are leaving your body vulnerable to problems that could further compromise your health and impede your ability to combat COVID-19.
2. Are Practices Seeing Infected Patients?
The last thing you want to do as a high-risk patient is spend time in places where infected people have been. Your dentist strives to create a safe environment for you. Many practices are screening patients for symptoms of the virus before they are allowed to enter. If they have any, they may be asked to postpone their appointment.
3. Can You Follow Social Distancing At The Dentist's Office?
Whenever you step outside, maintaining proper social distance is necessary to prevent the spread of the virus. Given the size of some dentist's offices, you may be wondering if it's even possible to avoid running into people during your appointment. Dental care providers recognize this, and many are adjusting how they schedule patients to accommodate social distancing. Some practices are booking less patients per day and giving the ones they do see more time during appointments so that they can feel comfortable while following all safety guidelines.
4. Are Dental Practices Truly Safe?
Before the COVID-19 crisis, dentists used a number of measures to ensure that germs couldn't accumulate in their practices. Now they are using even more safety procedures to keep viral particles away from patients. While the specific steps can vary by office, some of the most common ones include:
Using more personal protective equipment
Budgeting additional time per day for disinfection procedures
Installing physical barriers to prevent germs from collecting on surfaces
Having patients and staff wash their hands in specialized sanitizing stations
5. Will The Dentist Still Accommodate My Special Needs?
While the coronavirus has forced dentists to make some changes to the ways they provide care, they are still able to handle unique patient requests. You will just need to speak to your dentist before your appointment so that they can create and implement additional safety protocols for you.
Your dentist understands that something as simple as having your teeth cleaned can be a stressful event during these times. When you come to see them, they will do everything in their power to address your concerns and keep you safe from COVID-19.
About the Author
Dr. Christopher Nowacki has made it his goal to provide patients with exceptional dental care that lasts a lifetime. In order to continue doing this during the coronavirus pandemic, he has been discussing new disease prevention research and safety techniques with fellow members of the Florida Dental Association and the Academy of General Density. If you're interested in scheduling an appointment with him, you can do so through his website or at 321-724-9300.
Comments Off

on 5 Common Concerns Of At-Risk Dental Patients
No Comments
No comments yet.
RSS feed for comments on this post.
Sorry, the comment form is closed at this time.