November 19, 2019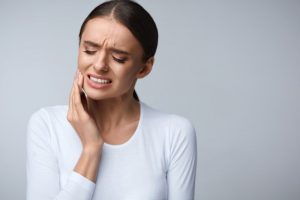 Do you have pain in your jaw? Is it sometimes hard to open and close your mouth? You may have TMJ disorder. This is a problem that affects the jaw joints that connects your jaw to your skull, causing pain, discomfort, dysfunction, and other negative symptoms. One of the main issues with TMJ disorder is that many people don't even know they have it. That's why November is National TMJ Awareness Month! Read on to learn more about TMJ disorder, the common symptoms, and whether or not you may need TMJ therapy in Palm Bay.
What is TMJ Disorder?
TMJ, short for the temporomandibular joint, is the part of your jaw that connects to your skull. When it's not working properly or under stress, you may experience pain and discomfort in your jaw joints and the muscles around it. The results can affect your day to day, how you eat, how you control your jaw, and your overall comfort level. The cause of TMJ disorder can often be hard to determine, but it's usually caused by physical injury or stress on the jaw from teeth grinding. Most cases of TMJ disorder are completely treatable, which is why it's important to contact your dentist if you're experiencing jaw pain.
How Do You Know if You Have TMJ Disorder?
This problem can often be misdiagnosed, which is why it's important to understand these common warning signs:
Pain in one or more of the temporomandibular joints
Pain or tenderness of your jaw
Difficulty or pain when chewing
Aching pain in or around your ear
Clicking or grinding sound when opening and closing the mouth
Facial pain
Difficulty opening and closing your mouth
Locking jaw joints
How is TMJ Disorder Treated?
Thankfully, TMJ disorder can be treated once it's recognized. Your dentist is a great resource for pain relief because they understand how your mouth, jaw, and skull are all connected. They can create an oral appliance that positions your jaw in a way that promotes healing and relief. This oral appliance, essentially a special mouthguard, will also prevent you from grinding your teeth, which is one of the main causes of TMJ disorder. These splints are custom-made to wear during sleep, positioning your jaw in its ideal place of rest. TMJ therapy will relieve strain on your joints, prevent jaw movement unconsciously, and retrains your jaw to rest comfortably.
TMJ disorder is a treatable problem, but you have to seek treatment first. For National TMJ Awareness Month and beyond, remember the common warning signs to look out for to ensure you have a comfortable and healthy smile.
Meet the Dentist
Dr. Christopher Nowacki believes dental treatments shouldn't be limited to just your teeth, which is why he offers quality and effective TMJ treatment at Beautiful You Dental. For any questions, he can be reached through his website or by phone at (321) 724-9300.
Comments Off

on Here's How to Celebrate National TMJ Awareness Month!
No Comments
No comments yet.
RSS feed for comments on this post.
Sorry, the comment form is closed at this time.