October 30, 2019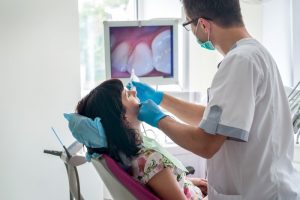 There has always been this cultural stigma around going to the dentist. No one likes getting their teeth prodded at. However, recent technological advancements have made visits with your dentist in Palm Bay much easier, and virtually painless. Let's take a closer look at a few advanced technologies that your dentist offers.
Digital X-Rays
Traditional x-rays were able to capture images of the parts of the teeth not visible beneath the gumline, but you had to wait a while for them to develop. The images were also not as clear as modern digital x-rays, and exposed you to more radiation. Thankfully, modern dental technology has come a long way.
Digital x-rays allow your cosmetic dentist in Palm Bay to see what your teeth look like almost immediately. Your dentist displays them on chairside computer monitors, allowing you to observe what's going on in your mouth along with your dentist. Your dentist can also color code certain parts of the image to make it easier for you to follow along with what they're saying about your oral health.
Intraoral Camera
Have you ever been listening to your dentist explain what's happening in your mouth, but had trouble picturing it? Thanks to intraoral cameras, that confusion is a thing of the past. Using a special pen-shaped device with a high-tech camera on the end, your dentist can closely examine your teeth and gums. The device is hooked up to a chairside monitor that allows you to see exactly what the dentist sees. No longer will you be scratching your head in confusion as your dentist explains what's going on in your mouth.
Cone Beam CT Machine
A cone beam CT machine is a type of x-ray that goes above and beyond even digital x-rays. It produces a 3D rendering of your entire mouth, including your jawbone, blood vessels, and nerves. This allows your dentist to more accurately place dental implants in Palm Bay. It can also be used to plan out root canal treatment, examine the face and jaw after trauma, and so much more. This technology allows your dentist to perform procedures much more precisely than ever before.
Joint Vibration Analysis Machine
Are you experiencing pain in your jaw or your temporomandibular joint (TMJ)? If so, then you can benefit from a Joint Vibration Analysis (JVA) Machine. It detects vibrations caused by friction in your joint. It can help easily diagnose TMJ disorder, which then allows your dentist to prescribe an effective and personalized treatment.
Dental technology has come a long way in recent years, as evidenced by these devices mentioned above. They can make your visit so much easier.
About the Author
Dr. Christopher Nowacki earned his Doctor of Dental Medicine in 2004, and since then, he has been working hard to hone his skills to provide compassionate, comprehensive dentistry. He is passionate about using the latest dental technology to give the best care to his patients. To learn more about this technology, contact Dr. Nowacki at (321) 724-9300.
Comments Off

on How Dental Technology Has Evolved to Benefit You
No Comments
No comments yet.
RSS feed for comments on this post.
Sorry, the comment form is closed at this time.