September 9, 2019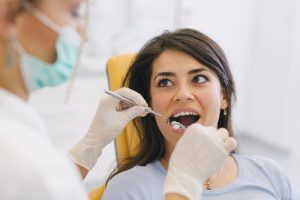 Do you know what healthy gums should look like? The answer is a pale pink color. If that isn't what you see when you look in the mirror, but instead, you notice red, tender, and puffy gums, it's likely you're experiencing periodontal disease. Common among adults in the United States, the only way to effectively combat it is with gum disease treatment in Palm Bay. But what if you just ignore the symptoms and hope they go away? Your dentist would suggest this is a bad idea. Find out why you shouldn't avoid the signs of gum disease and what you can do to prevent it in the first place.
What Are the Signs of Gum Disease?
While gum disease can appear in various stages ranging from gingivitis to periodontitis, the signs and symptoms that signal a problem include:
Red, puffy, tender gums
Inflamed gums
Bleeding gums in Palm Bay
Changes in your bite
Bad breath
Oral sores on the gums near the infected site
Receding gums that make your teeth appear longer
Ways It Can Impact Your Overall Health?
When gum disease is present, plaque and tartar make themselves comfort by attaching to your teeth and gums and spreading. With gingivitis, you and your dentist can work together to reverse it with regular dental cleanings and good oral hygiene habits practiced at home. Should it escalate to periodontitis, you will be required to undergo a deep cleaning process known as scaling and root planing.
This type of gum disease treatment removes plaque and tartar from beneath the gum line and smooths out the tooth root to encourage reattachment and decrease gum pocket formation. Without this solution, infection and inflammation can enter the bloodstream and lead to increased risk of:
Heart attack or stroke
Low birth weight or premature birth
Alzheimer's or dementia
Cancer
Respiratory disease
Gum Disease Prevention Tips
No one wants their oral or overall health to decline, so in order to prevent it from happening, you'll need to follow some suggested tips to keep your teeth, gums, and body in check:
Good oral hygiene routine: Brushing, flossing, and rinsing are the three main parts to any good oral hygiene routine. Brush twice a day for two minutes, floss at least once a day, and rinse after brushing and flossing.
Eat a well-balanced diet: Combine a mixture of lean proteins, vegetables, fruits, and good fats into your diet. Avoid eating too much sugar or starchy foods, as they can serve as a breeding ground for harmful bacteria.
Quit smoking: Smoking is not only harmful to your overall health, but it can make it difficult to heal from an infection should you develop one in your mouth.
See your dentist: Maintain your regularly scheduled six-month appointments with your dentist in Palm Bay.
Give your gums a fighting chance. By following the suggested oral hygiene tips listed above, you will begin to notice a clear difference in the way your mouth feels as well as your body.
About the Author
Dr. Christopher Nowacki earned his Doctor of Dental Medicine degree in 2004. Since that time, he has worked to refine and strengthen his skills and knowledge, so he can better provide quality service to his patients in and around Palm Bay. As an advocate for preventive care, he has seen the negative impact problems such as tooth decay and gum disease can have on a person's oral and overall health. To address this issue, he offers gum disease treatment to help patients restore their gum health before it's too late. To learn more about Dr. Nowacki, visit our website or call (321) 724-9300.
Comments Off

on How to Maintain Good Oral Health During National Gum Care Month
No Comments
No comments yet.
RSS feed for comments on this post.
Sorry, the comment form is closed at this time.