February 12, 2019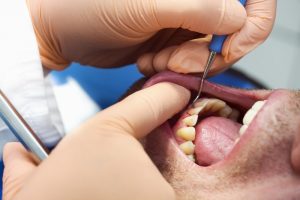 Did you know that nearly half of American adults over the age of 30 have periodontitis, an advanced form of gum disease? That's over 60 million people! But don't be fooled by the name—gum disease can affect more than just your gums. It is important to get gum disease treatment in Palm Bay as early as possible to avoid its ill effects. Check out this helpful information about this common condition and how it can impact you.
What is gum disease?
Gum disease is an inflammatory condition in the gums caused by the bacteria in plaque. As plaque builds up, particularly in between teeth and along the gum line, these bacteria create toxins that irritate the gums, causing them to become red and swollen. This is the first stage of gum disease, which is called gingivitis. Developing into periodontitis, these toxins then cause the gums to pull away from the teeth, forming pockets where more plaque can accumulate and increase the infection's influence in the mouth.
How can gum disease impact my health?
As previously mentioned, gum disease doesn't just impact your gums. After all, your mouth is the window to the body. Here are three specific examples of how gum disease can affect your health.
Tooth Loss
If left untreated, the infection spreads to the bone and tissue in the jaw, causing permanent damage to the structure that supports the teeth. They can become loose, and ultimately, gum disease leads to tooth loss. Losing one or more teeth can be detrimental to your health if they aren't replaced. For example, if you don't chew your food sufficiently with the teeth you have, you can experience more indigestion and malnutrition. Also, you're more likely to lose your remaining teeth if you don't replace your missing ones.
Heart Disease
Research has shown a strong link between gum disease and heart disease. Those with gum disease have a 20 percent higher risk of getting heart disease. Also, patients with both diseases had significantly higher cardiovascular care costs than those with heart disease alone.
Kidney Disease
Those with chronic kidney disease who also have periodontitis have a higher risk of death than patients with healthy gums. Other research found that people with gum disease were much more likely to have renal insufficiency, a condition that slowly reduces kidney function.
In the end, gum disease should be taken seriously. What starts out as a small irritation in the gums can wreak havoc on your body if left untreated. If you think you have gum disease, you should seek periodontal treatment with your dentist in Palm Bay to restore your oral health, which can impact your overall health as well. Your gums are worth the time and effort in the long run.
About the Practice
At Beautiful You Dental, Dr. Christopher Nowacki and his staff have years of experience helping patients in the Palm Bay and surround areas. They invest in the latest technology, such as digital X-rays, to improve their ability to quickly and accurately diagnose problems and deliver the best treatment possible. To schedule an appointment with them, call (321) 724-9300 or click here.
Comments Off

on 3 Health Reasons to Get Gum Disease Treatment in Palm Bay
No Comments
No comments yet.
RSS feed for comments on this post.
Sorry, the comment form is closed at this time.