August 19, 2018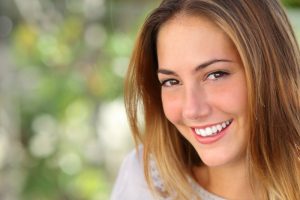 Porcelain veneers in Palm Bay might be what you're looking for if you're concerned about the appearance of your small, off-center, misshapen, or discolored teeth. For many people, aesthetic considerations can cause lack of self-confidence and awkwardness in social environments. Veneers help to correct these issues, allowing you to feel and be your best. Unlike other dental treatments, veneers require minimal treatment time while delivering excellent results in almost all cases.
What Are Porcelain Veneers?
Think of veneers as a facelift for your mouth. Over time, problems like teeth grinding, lifestyle choices, or simple wear and tear can affect your smile. Or perhaps you've never been quite satisfied with your natural teeth, even if they're healthy. Porcelain veneers can help with all of these problems. Here's how they work:
During the initial appointment, you and your dentist will discuss your concerns and goals. He or she will perform an examination of your teeth and gums to ensure that veneers are a good solution in your case.
Should you choose to proceed, your dentist will remove a very small amount of your natural teeth's enamel, creating a suitable surface for the veneers. The dentist will give you a temporary set of veneers to wear while your permanent set is being processed by the laboratory.
In a few weeks, you'll have a follow-up visit in which your dentist will fit the veneers to your mouth, double-check to make sure everything looks great, and bond the appliances to your natural teeth using a medical-grade adhesive.
In most cases, your dentist will ask you to return in a week or two just to make sure you're satisfied with your veneers. In almost all cases, the answer is an enthusiastic "yes."
Benefits of Porcelain Veneers
Here are some of the advantages typically reported by people who receive veneers:
Resolution of troubling personal appearance issues. For example, people with small or misshapen teeth are sometimes reluctant to show off their smile in public. Occasionally, they may hear careless remarks from strangers or even family and friends. Veneers offer a true long-term solution to these issues.
Greater self-confidence in both professional and social interactions. If you spend a good part of your time interacting with others, then you already know that how you feel about yourself has a big effect on the way others see you. Veneers can give you the assurance you need to always put your best foot forward, no matter what situation in which you find yourself.
Ease of care. Veneers only require simple common sense steps like brushing and flossing, avoiding tobacco products, and seeing your dentist for regular cleanings and checkups. Your dental professional may recommend that you limit your consumption of liquids such as red wine, tea, soda, and coffee, as these can sometimes cause staining.
If veneers sound like the solution you're looking for, then consider making an appointment with your dentist soon. Whichever choice you ultimately make, we wish you and your loved ones a lifetime of happy smiles.
About the Author
Dr. Christopher Nowacki earned his DMD degree in 2004. He is committed to providing only the best possible care for his patients. You can reach his office online or by calling (321) 724-9300.
Comments Off

on Porcelain Veneers in Palm Bay Can Correct Your Small Teeth
No Comments
No comments yet.
RSS feed for comments on this post.
Sorry, the comment form is closed at this time.