June 17, 2018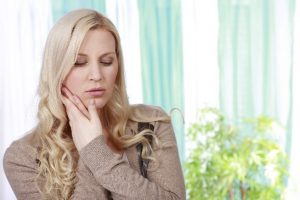 Do you hear clicking or popping when you open or close your mouth? Maybe you live with chronic jaw pain or frequent headaches? You could be suffering from a disorder of the temporomandibular joint. The joint connects your jaw to your skull on either side of your face. When it functions improperly, it can significantly decrease your quality of life. Every day tasks like chewing, speaking, or yawning can be painful. To give you the relief you need, you need an expert for TMJ therapy in Palm Bay. Supported by extensive training, Dr. Christopher Nowacki is the dentist for you.

What is a TMJ Disorder?
When the temporomandibular joint functions incorrectly, it is known as a TMD or TMJ disorder. According to the National Institute of Dental and Craniofacial Research, it is estimated that 5% to 12% of the population suffer from its chronic.
The joint can develop complications due to several reasons, such as a poorly aligned bite, past trauma to the face, or arthritis. No matter the cause, it can result in serious pain throughout the day. Not only can it become stiff and sore, but it can also swell and become tender to the touch.
It is not unusual to hear a clicking, popping, or grating sound when opening or closing your mouth. In some cases, the jaw may become stuck in an opened or closed position. Many people with the disorder report to experience headaches, ringing in the ears, and earaches.
How Can I Get Relief?
Now, you can restore your quality of life with TMJ therapy, but it will require the help of a dentist in Palm Bay. Dr. Nowacki not only provides exceptional dental care, but he also treats TMJ disorders. He has attended several extra CE courses to become an expert in the field. He regularly continues his training to offer his patients the latest treatments to stop TMJ pain.
To create a customized treatment plan, Dr. Nowacki will conduct an examination of the joint to understand how your oral and facial structures interact. Using neuromuscular dentistry, he can help to pinpoint the best position for your jaw to alleviate your symptoms. Treating your symptoms can be as simple as using an oral appliance, known as an occlusal splint.
Occlusal Splints
An occlusal splint is a simple and effective solution to take pressure off the joint. It is a custom-crafted oral appliance that is worn while you sleep. It moves your jaw into a more comfortable position to reduce strain while also training it to naturally rest comfortably.
Stop Your TMJ Pain Today!
If you live witch chronic jaw pain, you can get the relief you need with the trusted TMJ expert in the area.
About Dr. Christopher Nowacki
Since 2004, Dr. Christopher Nowacki has provided exceptional dental care to the community. In addition to general dentistry, he also provides many areas of specialty services, including the treatment of TMJ. To get the relief you need, contact our office today to schedule your consultation for TMJ therapy.
Comments Off

on Your Expert for TMJ Therapy on Palm Bay
No Comments
No comments yet.
RSS feed for comments on this post.
Sorry, the comment form is closed at this time.