March 1, 2018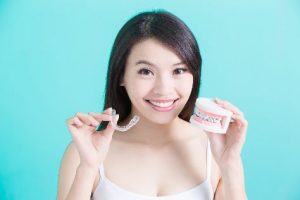 When it comes to the impression you make on other people, a smile says it all. Confidence, humor and compassion are all conveyed with this universal form of communication. But what if you don't feel so great about your smile? Feeling self-conscious can really put a damper on your ability to relate to other people, which is no way to go through life!
Thankfully, modern dentistry offers more than one way to straighten your teeth and feel great about your grin. In addition to traditional braces in Palm Bay, Clear Correct can give the same great result, invisibly. We offer both types of orthodontic treatment for adults and teens alike, so there really is a solution for everyone. In this blog, we'll discuss both treatments so you'll have a better idea of which one will work for you.
How Do Braces and Clear Correct Compare?
Appearance: Of course, the most obvious difference between these two choices is that one uses clear, invisible trays to move the teeth, while the other relies on brackets and wires.
Number of Visits: Braces usually require visits every four weeks, while you'll see your dentist every 4-6 weeks with Clear Correct.
Length of Treatment: This really depends on the severity of your crowding. In many cases, Clear Correct treatment can be done in less time, but not always.
Compliance: Since braces adhere to the teeth for the duration of treatment, you don't have much choice in the matter of compliance! With Clear Correct, patients must make sure to keep their trays in for a minimum of 22 hours a day to get their results on time.
Hygiene: It's much more difficult to keep the teeth and gums clean in brackets and wires, so it's necessary to be extra diligent with hygiene habits to avoid a lot of cavities at the end of treatment. An electric toothbrush and a waterpik can really help! With clear trays, however, brushing and flossing is much easier because they can simply be removed.
Cost – While the cost of each treatment will depend on factors unique to each individual, they're typically in the same ballpark for either braces or Clear Correct.
Which Option Will Work For You?
For many people, both options for orthodontics in Palm Bay will work equally well. However, there are some cases that require braces because the level of crowding is severe.
If you'd like to know more about what your individual treatment plan might look like, scheduling a consultation with a dentist in Palm Bay is the first step.
Now that you know a bit more about your choices, you'll be able to ask all the right questions and can be on your way to a straighter, more beautiful smile in no time!
About the Author
Dr. Christopher Nowacki knows the impact that a beautiful smile can have on his patient's lives. He also understands that one orthodontic treatment isn't the best fit for everyone, so he offers two options so his patients have a choice about how to straighten their smile. If you have any questions about this topic, he can be reached via his website or at (321) 724-9300.
Comments Off

on Clear or Traditional Braces in Palm Bay – Which One Will Work For You?
No Comments
No comments yet.
RSS feed for comments on this post.
Sorry, the comment form is closed at this time.