How Dental Implants Work – Palm Bay, FL
Complete Your Smile with Dental Implants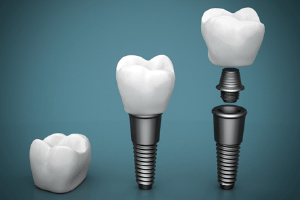 Are you ready to replace your missing teeth? Learn how dental implants work from our Palm Bay, FL dentist and team. That is great! Dr. Christopher Nowacki can help. He offers the solution you need to regain a functional, attractive smile. While you are excited to start the process, you are still a bit confused about how they work. Although they are different from traditional treatments, like dentures, there is no need to worry. The materials used, and the multi-phased treatment process ensures their long-term success.
How Dental Implants Work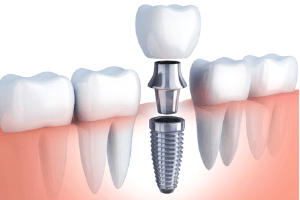 Before you begin the procedure, a CT scan of your mouth is needed to evaluate your candidacy for dental implants. The images are also used to pinpoint the precise location for your implant posts.
Implant Post
Dental implants differ from any other type of oral prosthetic because they replace both the root and the crown. A titanium implant post is surgically placed into your jawbone by your dentist in Palm Bay, Dr. Nowacki. This serves as a root while also creating the foundation for your new smile.
The post is biocompatible, so your body naturally accepts it. By acting as a root, it stimulates your jaw to encourage new bone growth through a process called osseointegration. This not only helps to preserve your bone density, but it also causes your jaw to fuse to the post. This provides a secure foundation for your replacement tooth while holding the potential to remain in place for several decades.
Abutment
It takes several months for your jawbone to fuse to the post. After adequate healing occurs, the second phase of your treatment begins. An abutment is attached to the post to connect your restoration. A minor surgical procedure is needed to place it. It takes about 2 weeks for your gum tissue to heal around it. This creates a natural-looking gum line while also sealing out bacteria to protect the post.
Restoration
Impressions of your mouth are taken to design your restoration. It is crafted from all-ceramic material and made to match the color, size, and shape of your natural teeth. After it is attached to the restoration, it stays securely in place, so you can chew, smile, and speak with confidence.
Depending on how many teeth are being replaced, your treatment process will vary. When replacing a single tooth, only one post, abatement, and crown are needed.
When treating two or more teeth in a row, an average of 1 to 2 implant posts is used to anchor a dental bridge to your jawbone. An entire arch is replaced using 4 to 6 implant posts to hold a custom-made denture in place.
Invest in Your Smile Today!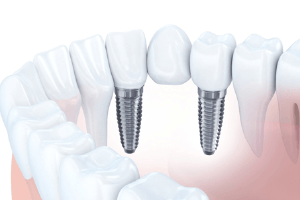 Dentists in Palm Bay can now complete your smile with a solution that offers over a 95% success rate. With the potential to last for a lifetime, you can make a true investment in your oral health and your quality of life.
If you are ready to enjoy a complete smile, contact our dental office today to see if dental implants are right for you.